12 Best Free VPN For PC (2021 Edition)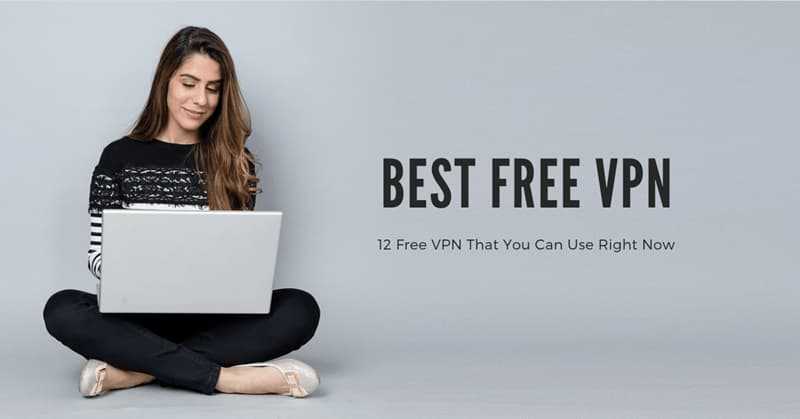 Best free VPN for PC is one of the most asked about. So, here is a curated list of free VPN for windows 10 that you can actually use. With the ever-increasing rise of online privacy issues, there is no better time for internet users to get a VPN.
Though, the users are becoming more and more aware of these issues as free VPN downloads have become so popular. There are many VPN available, both premium and free.
If you are looking for a secure VPN and without limited features, I would surely recommend a premium VPN. When it comes to free VPN, then most of them all is crap and full of malware and ads.They can pose serious risks to your security.
Many free VPN doesn't have a no-logs policy, meaning they can track your data and put your privacy at risk. But few of the premium and most reputed VPN providers offers free VPN version also.
In this article, we will list the best free VPN for pc that you can use right now.
What is a VPN?
VPN is a virtual private network. It acts as a tunnel between your device and the Internet.
VPN gives your Windows PC, Mac, iPhone, and your Android device an extra layer of security. VPN protects you from snooping, interference, and censorship. VPN make you anonymous on the Internet by masking your location.
Why You Need a VPN?
If you are not using a VPN, then these are the reasons why you should:
Your internet service provider can see your internet traffic and logs your browsing history. Using a private search engine is one solution to this issue.
You want to access websites or services that are not accessible from your location.
If you are connecting to a free public WiFi, then you are vulnerable to get attacked and hacked by the hackers. There is a risk to your data.
You are shown higher prices if you are browsing from a specific location.
Solution: A VPN
Features of VPN
Hides your IP and location
Encrypt your online communications
Unblock censored Websites and services.
Avoid spying and throttling.
Blocks targeted advertising.
Allows Torrenting and provides an optimized network for streaming with no bandwidth limits.
The Truth About Free VPN for PC
Though the list contains free VPN for Windows 10 that are provided by the reputed VPN providers, the truth is that nothing is free.
These VPNs are free, but they offer limited functionalities and features like limited bandwidth, limited servers, restricted devices, without streaming and torrenting capabilities.
So, if you can pay as little as \$3 per month, I would highly recommend you to use NordVPN, which is one of the best VPN available and the one I am currently using.
Keeping the above points in mind lets get started with the list of best free VPN for PC. Looking for the best free VPN for Windows 10. Then this list includes free VPN for torrenting and that works on most of the platforms like Windows 10 PC, Mac, iOS, Linux, and Android. Here we go:
1. WindScribe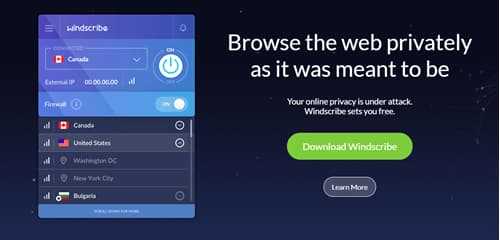 When it comes to the best free VPN, WindScribe will be at the top of the list.
The best thing I like about WindScribe is that you can use all the features that it has to offers with its free version. The only thing extra thing its premium version offers is unlimited data usage and more servers.
With the free version, you will get up to 10 GB of data per month. You can get an extra 5GB of data by tweeting about WindScribe. Wait, there is more. When you invite a friend to join Windscribe free VPN.
You will get an additional 1GB per month. Thus, WindScribe offers way more data than other free VPNs on the list.
Windscribe doesn't store identifying logs such as IP, timestamp, and visited websites. It is an excellent free VPN for Windows 10 and supports Mac and Linux.
WindScribe offers Chrome, opera, and firefox add-ons and is a great free VPN for Android and the best free VPN for iPhone.
WindScribe Free VPN Pros
10GB of data per month + Extra 5GB (When you Tweet)
10 Free VPN Servers across multiple countries
No logging & Awesome Privacy Policy
Includes AdBlocking and Firewall Options
Supports P2P and Torrenting
Has kill switch
No ads
Similar features to premium version except for unlimited bandwidth and servers.
WindScribe Free VPN Cons
One simultaneous connection max.
Sometimes slow speed.
Download: Download WindScribe
2. Speedify

Speedify is a channel bonding VPN that combines both WiFi and cellular internet connections to speed up the network and provide increased bandwidth, lower latency, and better reliability.
Speedify offers 5 GB  of data limit per month. And it offers incredibly fast speeds, thus allowing better streaming without throttling error or buffering.
It has a strict no-log VPN policy that means it does not record your internet logs.
If you are looking for the best free VPN for torrenting, then Speedify along with WindScribe will be my recommendation.
Speedify also has redundant mode and automatic failover. And it doesn't inject ads as hotspot shield does.
Speedify VPN Pros:
5GB of data per month
No Logging
No account required for use
Don't inject ads
Has Performance boosters
Supports torrenting (P2P servers)
Include packet loss and error correction protection
Speedify VPN Cons:
Needs multiple connections to use
Download: Download Speedify VPN
3. ProtonVPN

One of the few free VPN that has no monthly data limit. ProtonVPN offers excellent privacy, but one of the most important limitations is that the speed is limited.
Though it has unlimited data, the speed is limited. Moreover, the free version offers only three virtual locations, and it doesn't support P2P servers and streaming.
So, if you are looking for a free VPN for pc without data limit then, ProtonVPN should be your choice if you are ok with limited speed.
Also, it doesn't collect logs, which s excellent.
ProtonVPN Pros:
No monthly data limits
Great on the privacy front
No log policy
ProtonVPN Cons:
Doesn't supports torrenting
Only three servers
Speed is capped
One device limit
Download: Download ProtonVPN
4. Hotspot Shield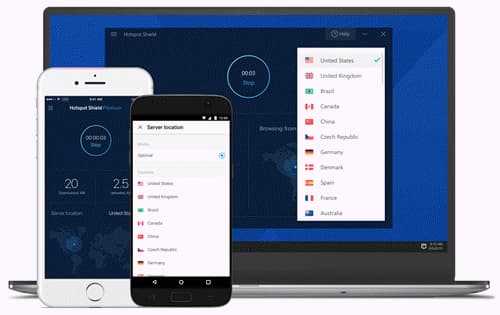 Hotspot Shield is one of the most popular free VPN among users. AnchorFree offers it.
The premium version is great indeed, but when it comes to its free version, it is minimal.
Apart from the 500MB bandwidth limit, i.e. around 15GB per month, which is very high as compared to below TunnelBear and other free VPN in the list.
But when it comes to privacy,  then you can blindly trust hotspot shield when compared to other free VPNs. Though it offers fast servers, the free version only provides 1 united states based virtual location.
And moreover, it displays ads in your browser that is why I would recommend Windscribe free VPN over the Hotspot shield.
Note: When you first install Hotspot shield and run it the first time then it the display window asking to sign up for 7 day trial version. And to use it free just press the back button. Refer to the below screenshot.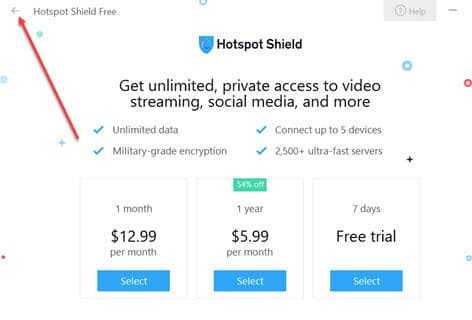 Hotspot Shield Pros:
500MB per day bandwidth cap
Good Security
Good Speed.
Hotspot Shield Cons:
Only 1 Virtual Location (US)
Display ads on top of your browser
Not suitable for unblocking Geo-restricted content.
Download: Download Hotspot Shield
5. Hide.me

Another free VPN that doesn't collect log. Hide.me is a Malaysia based VPN service.
The free version allows only 5 locations and offers 2GB per month data limit.
The significant limitations are the restriction of only 1 simultaneous connection, and some VPN protocols are limited to the premium version.
Hide.me Free VPN Pros:
Strict no-log policy
No ads
Hide.me Free VPN Cons:
Only 5 locations
One Simultaneous connection
2 GB data transfer
Download: Download Hide.me
6. TunnelBear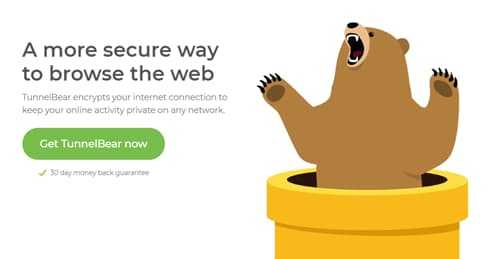 TunnelBear is a user-friendly VPN and acquired by McAfee. They offer both free as well as premium versions.
The major limitation of TunnelBear is its low data limit, which is only 500MB per month, which is very low when compared with other free VPN for pc.
TunnelBear is also available on PC, Mac, iOS, and Android.
TunnelBear VPN Pros:
User-Friendly.
High Speed.
No ads
TunnelBear VPN Cons:
Only 500MB of data per month.
Not many options or settings
No peer-to-peer (P2P)
Download: Download TunnelBear VPN
7. VPNBook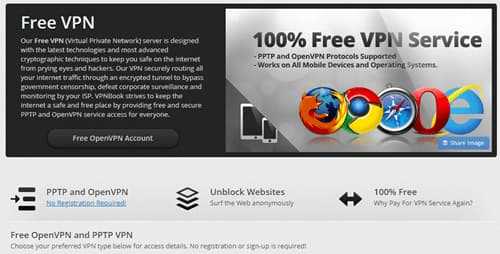 VPNBook is an entirely free and fast free VPN for pc. It doesn't have any restrictions. It has no bandwidth limit, no data limit, and it even has no premium version.
Everything associated with VPNBook is free.
But, it is not for beginners; it doesn't have any installer and little guidance.
It offers a list of servers, and you need to set up on your device using their how to set up a guide, which can be a little tricky.
VPNBook offers PPTP VPN or OpenVPN. OpenVPN is often recommended as PPTP VPN is more straightforward for government and content providers to block.
So, you need to download  OpenVPN client and VPNBook's configuration and certificate bundles for setting up a VPN on your device.
VPNBook Pros:
Entirely Free
No Bandwidth limits
No Service limitation
No Registration Required
VPNBook Cons:
Not for beginners
Installation is tricky
Download: Download VPNBook
8. Opera VPN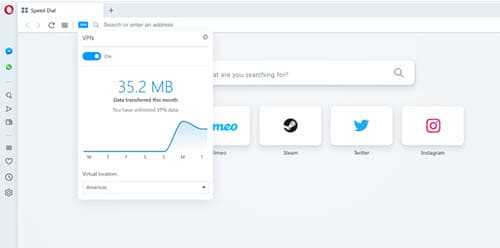 Opera VPN is a part of the opera browsers and is completely free. It doesn't have any speed or data limits.
Also, it is free from ads. The Opera VPN doesn't log and store any activity data, which is excellent from the privacy point of view.
It unblocks firewalls and websites and hides your IP address and protect you on public WiFi.
Opera VPN For PC Pros:
Completely free
No ads
No data limits
No Speed limits
Opera VPN For PC Cons:
Works only with Opera Browser
It is a Web proxy rather than a true VPN
Limited range of endpoints
Download: Download Opera VPN
9. SurfEasy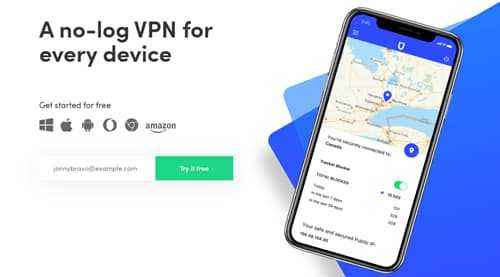 SurfEasy is a no-log VPN which is very limited when it comes to data limits, i.e. 500MB per month.
The free version doesn't support torrenting, but it does allow up to five simultaneous devices.
It is available for all platforms.
SurfEasy VPN Pros:
Five Simultaneous Devices
Great Customer support
SurfEasy VPN Cons:
Low Data. Only 500MB per month
No torrenting support.
Download: Download SurfEasy VPN
10. Kaspersky Secure Connection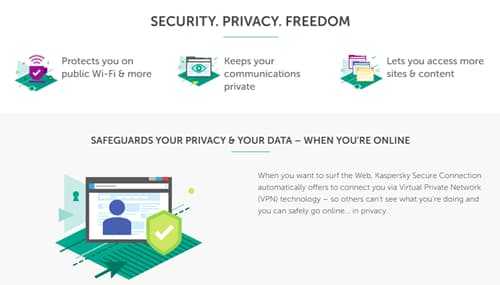 One of the most popular antivirus company offers a VPN known as Kaspersky Secure Connection.
Its free version provides 200Mb of data per day and supports unlimited devices.
It also has a no-logging policy, and it is one of those free VPN that supports P2P servers.
But server selection is automatic which means that you can select any other servers.
Kaspersky Secure Connection Pros:
Unlimited devices
Allows P2P and BitTorrent.
No logging policy
Includes AdBlocking and Firewall Options
200 MB per Day which is comparatively more.
Kaspersky Secure Connection Cons:
Automatic virtual location selection
No ad blocking
Download: Download Kaspersky Secure Connection
11. Avira Phantom VPN
Another free VPN in the list. Avira Phantom VPN offers only 500MB of data per month.
The significant benefits of using this free VPN is that it works with Netflix, but it does not provide any information on torrenting.
Though it says no logging they do collect certain information.
Avira Phantom VPN For Windows 10 Pros:
Super easy to use
No IP, DNS Leaks
Works with Netflix
Avira Phantom VPN For Windows 10 Cons:
Very Limited Data. Only 500MB per month
Minor logging
Torrenting not supported.
Slow Speed
Download: Download Avira Phantom VPN
12. CyberGhost for Chrome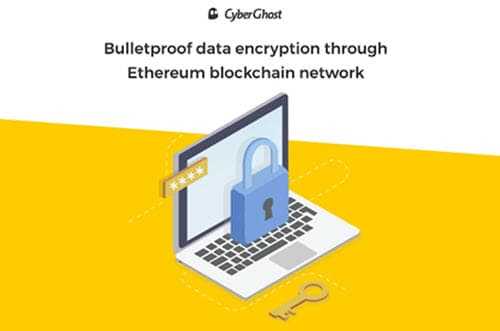 CyberGhost has discontinued its free version, but they are offering free extensions for Chrome and Firefox.
Their free extension was built on Ethereum blockchain technology and protected against privacy, censorship, frauds, and third-party interference.
It is entirely free, and you can unlock any website using a single click.
CyberGhost for Chrome Pros:
Online Data encryption
Hides IP
Unblocks websites and services
Block malicious content
CyberGhost for Chrome Cons:
Works only in browsers
Doesn't protect from webRTC leaks
Not as powerful as compared to a true VPN.
Download: Download CyberGhost for Chrome
Final Words: Why You Should Prefer Premium VPN Over a Free VPN?
Let's get it straight; nothing in this world is free. Free VPN are limited as you have already noticed.
They are not great for torrenting either, their speeds suck. So instead of looking for a free VPN, I would recommend you to use premium VPN if you care about your online security.
I would recommend two premium VPNs: ExpressVPN and NordVPN.
Though ExpressVPN is the best VPN, it is not cheap. It does offer a 30-day trial. And if you can afford it, then surely go for it.
And if you want a world-class VPN similar to ExpressVPN but at a reasonably low cost, then I would recommend NordVPN. It's around \$3.49 per month. I am using NordVPN and its awesome.
Please do let us know which free VPN you are using.
If you have any suggestions, then do let us know via comments If you found it helpful then please share it.