12 Best Open Source Video Editing Software in 2020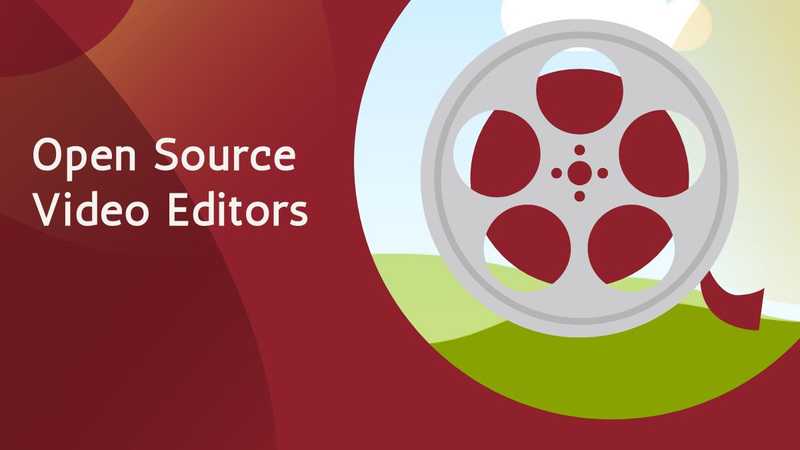 Looking for best open source video editors in 2020, then let's dig right in.
Video editing is the manipulation and arrangement of video shots. To do video editing a special software called video editing software is used. Before, all the advancements in technology video editing were done on expensive machines called video editors.
But now with the help of video editing softwares, video editing can be done on personal computers and workstations, making video editing available to all people. Video editing is also possible on smartphones. And there are many video editing apps for ios and android.
But if your need a fully fledged professional video editing software then a mobile app may not suit your requirement. And in that case you need a professional video editor.
There are many video editing software available most of them are paid and not everyone can afford them. So in this post, we bring you some of the best free and open-source alternatives.
Benefits of using Open Source Video Editing Software
One of the main benefits of using open source software is that anyone can take the source code and modify the program to their liking. If there is some feature that you think should be in the software then you can add that feature yourself and make that feature available for the community also.
One of the common misconceptions about open source software is its stability and optimization. Well, let me tell you that's not the case all the time. In fact, they are stable and secure than the closed source software programs and even outperform them.
Top Free and Open Source Video Editors
Looking for best open source video editors, then here is curated list of 12 top free video editing softwares. So, let us get started with this list.
And as they are open source software you can always deep dive into the source code. And if possible support them and contribute by opening issue or opening a pull request.
1. KDENlive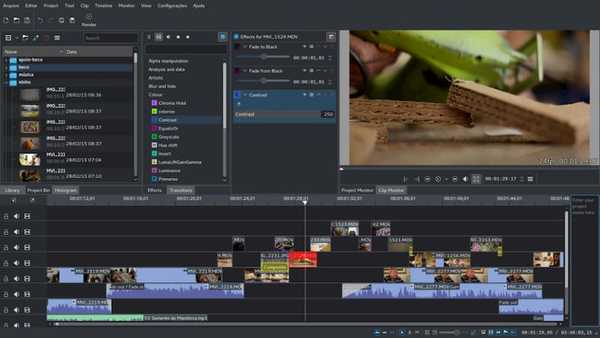 KDElive short for (KDE Non-Linear Video Editor) is a cross-platform video editor for Linux, Windows, and BSD. For macOS, you have to manually compile and install it.
Kdenlive is built on Qt and the KDE Frameworks libraries. Most of the video processing is done by the MLT Framework, which relies on many other open-source projects like FFmpeg, frei0r, movit, ladspa, sox, etc.
The program offers a variety of features for professional video editing. Some of the key features are listed below.
Features:
Multi-track video editing : You can arrange several audio and video tracks, each one can be locked or muted to your convenience.
Support for Multiple Audio and Video Formats: With kdenlive can use almost any audio and video formats directly without the need to convert or re-encode your clips.
Configurable interface and shortcuts: You can save your custom interface layouts to fit your workflow.
Audio and video scopes: Monitor your audio level or check the color scopes to make sure your footage is correctly balanced.
Proxy editing: kdenlive automatically create low resolution copies of your source clips so that you can edit them on any computer, and then render using full resolution.
Online resources: You can download render profiles, wipes and title templates directly from the interface.
Themable interface: You can switch between a variety of light and dark themes.
Supported Platforms: Windows, Linux, Mac
Checkout kdenlive
2. Shotcut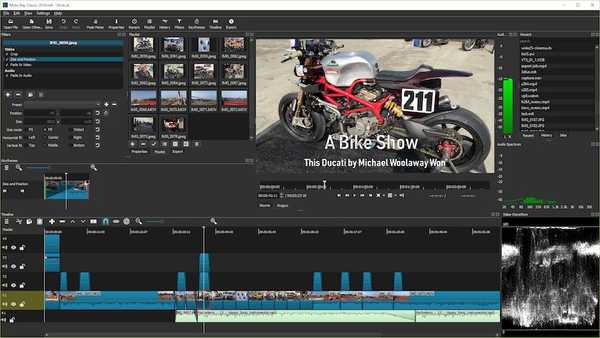 Shotcut is another popular cross-platform open-source video editor. It supports wide range of formats, native timeline editing. Moreover, it also supports 4K resolution.
Shotcut gets updated regularly with lots of new features and bug fixes. All in all, it is one of the top video editing software for Windows, Mac and Linux operating system. Some of the key features are listed below.
Features:
Wide Format Support: Support for the latest audio and video formats along with support for 4K resolution.
Video Effects: Track compositing/blending modes along with multiple video filters.
Multitrack timeline: Multitrack timeline with thumbnails and waveforms.
Play MLT XML Files: Load and play complex MLT XML file as a clip.
UI themes/skins: Native-OS look and custom dark and light.
Flexible UI: Clean and flexible UI through dock-able panels.
Preview Scaling: Low resolution preview (Preview Scaling) to improve speed of realtime effects.
Portable app: Can run as a portable app from external drive.
Supported Platforms: Windows, Linux, Mac
Checkout Shotcut
3. Blender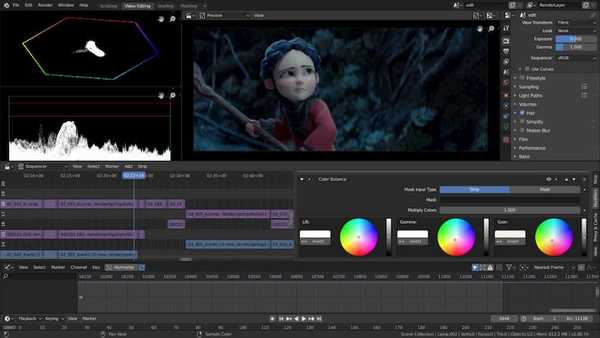 Blender is the free and open-source 3D creation suite. Blender is cross-platform. Blender can do more than just video editing. It supports 3D pipeline—modeling, rigging, animation, simulation, rendering, compositing, and motion tracking, and even game creation.
It's definitely the most powerful open source video editing software available.
Some of the key features of Blender are listed below.
Features:
3D Modelling: Blender's comprehensive array of modeling tools make creating, transforming, sculpting and editing your models a breeze.
Animation and Rigging: Blender allows artists to turn their still characters into impressive animations.
VFX: Blender comes with a fully fledged built-in compositor and Motion Tracking.
Simulation: Using a blender you can simulate smoke, fire, hair, cloth, fluids, and many more.
Preview Features: Live preview, luma waveform, chroma vectorscope and histogram displays.
Slots: Up to 32 slots for adding video, images, audio, scenes, masks, and effects.
Effects: Speed control, adjustment layers, transitions, keyframes, filters.
Supported Platforms: Windows, Linux, Mac, FreeBSD
Checkout Blender
4. OpenShot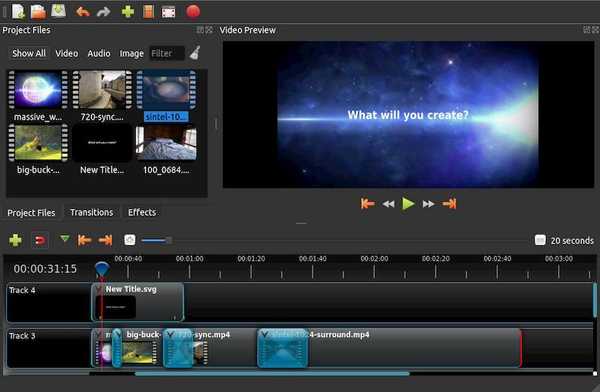 OpenShot is another powerful open-source video editor. It has a nice and simple interface and is designed to be an easy to use software. It is available in over 70+ languages, with features like 3D animations, slow motion and time effect etc.
It has been on the internet for quite some time now and still going strong. It is one of the top video editing tool that you should try.
OpenShot offers plenty of features. Some of the key features of OpenShot are listed below.
Features:
Trim/Slice: OpenShot has many easy ways to cut your video.
Animation & Keyframes: You can fade, slide, bounce, and animate anything in your video project.
3D Animations: Render beautiful 3D animated titles and effects easily with OpenShot.
Slow Motion & Time Effects: OpenShot allows you to easily reverse slow down, and speed up video.
Video Effects: With OpenShot incredible video effects you can remove the background from your video, invert the colors, adjust brightness, and more.
Supported Platforms: Windows, Linux, Mac
Checkout OpenShot
5. Flowblade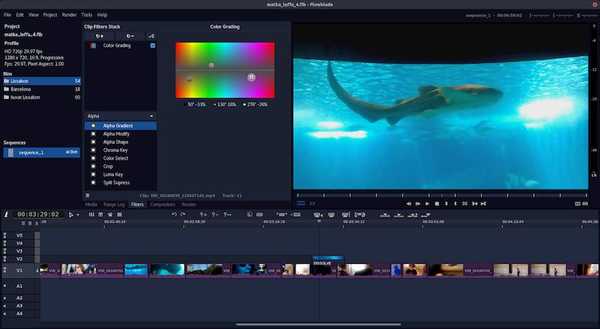 Flowblade is a multitrack non-linear video editor released under GPL3 license. With Flowblade Movie Editor you can compose movies from video clips, audio clips and graphics files.
Flowblade offers a configurable workflow - toolset, its order, default tool and certain timeline behaviours are user settable. All in all Flowblade is one of the best open source video editor for Linux.
Features:
Image compositing: 10 compositors. Mix, zoom, move and rotate source video with keyframed animation tools. 40+ pattern wipes.
Image and audio filtering: 30+ audio filters: keyframed volume mixing, echo, reverb, distort, etc.
Output encoding: User can define rendering by setting FFMpeg args individually.
SVG vector graphics: Support for SVG graphics.
G'MIC tool: G'MIC is powerful open source image filtering technology available in Flowblade.
Proxy Editing: Enables responsive editing when original media makes too high demands for either disk bandwidth or CPU processing power.
Supported Platforms: Linux
Checkout Flowblade
6. Natron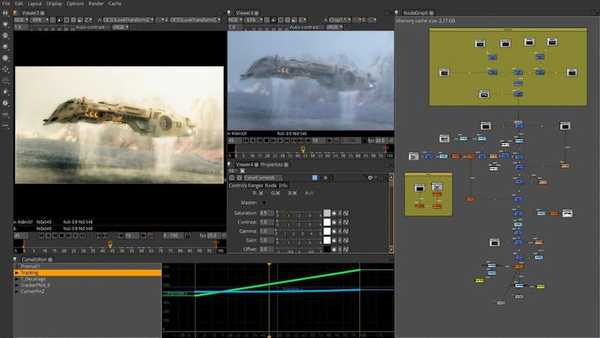 Natron is cross platfrom and open source compositor for visual effects and motion graphics industry. Natron has a powerful keying, roto/rotopaint, 2D tracking tools that are staple for all current film production project that requires visual effects. All in all one of the best open source video editor for Windows, Mac and Linux.
Some of the key features of Natron are listed below.
Features:
Flexible RotoScoping: Multilayered RotoScoping with stroke capability.
Tracker: Powerful 2D and Planar Tracker.
OpenFX Plugin Support.
GPU and Network Rendering: Natron supports network and gpu rendering for faster production.
Keying Tool: Keying tools for production needs.
Supported Platforms: Windows, Linux, Mac, FreeBSD
Checkout Natron
7. LiVES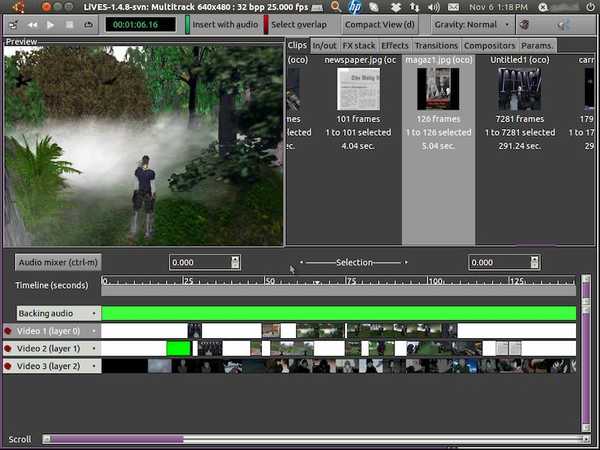 LiVES is simple yet powerful video editing software. It is small in size, yet it has many advanced features.
It will let you start editing and making video right away. It is a very flexible tool which is used by both professional VJ's and video editors.
Features:
Automatic Scaling: Automatically Scale for high/low end hardware.
Real time Blending: Real time blending of clips (various chroma and luma blends).
Playback Speed: Ability to instantly alter the playback speed of video and audio independently.
Plugins: Support for LADSPA audio plugins.
Transitions: Auto-transitioning of audio with video.
Audio Effects: Audio blocks can be timestretched and even reversed.
Other Plugins: Support for libvisual and projectM (Milkdrop) plugins.
Supported Platforms: Linux, Mac
Checkout LiVES
8. Avidemux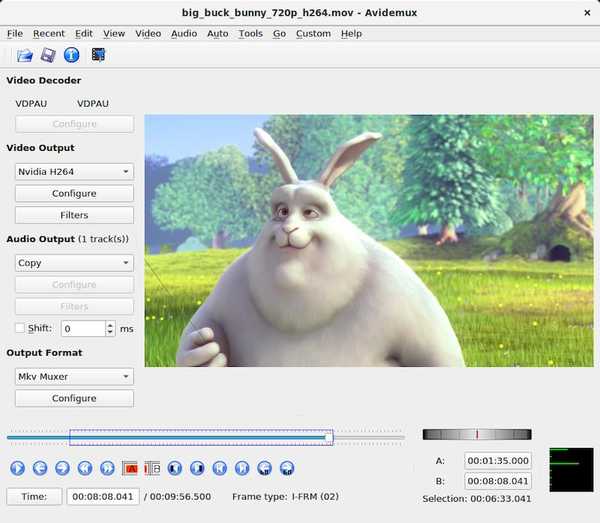 Avidemux is great for doing simple video editing including cutting, adding a filter and for performing some other basic tasks. It is simple and lightweight and gets the job done.
Avidemux also has docs available on their website which helps you install Avidemux on your system and even docs relating to the usage of Avidemux.
Features:
Video Formats: Supports all popular Video Formats.
Filters: Various Filters available.
Hardware Decoding: Support For Hardware Decoding.
Supported Platforms: Windows, Linux, Mac, FreeBSD
Checkout Avidemux
9. Cinelerra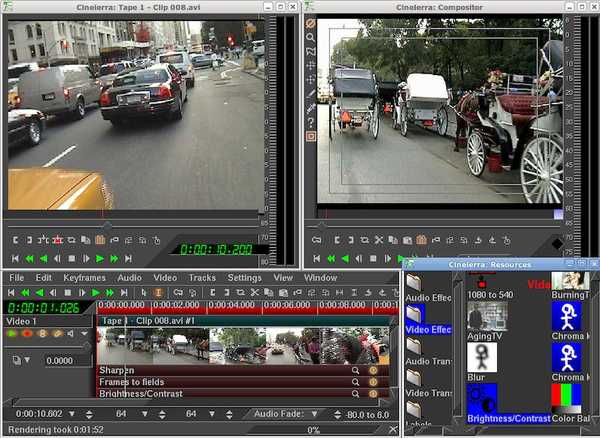 Cinelerra is yet another popular choice for open source video editing software. Cinelerra is currently available for Linux operating systems. Cinelerra has different versions of its software available.
They have Cinelerra-GG, Cinelerra-CV, Cinelerra-CVE, Cinelerra, Lumeria. You can download and try out these different versions for yourself. They also provide pre-built distros with Cinelerra already installed.
If you want to learn more about the differences between these then you can learn them by clicking here.
Features :
Extensive codec support: Up to date version of FFmpeg such as mp4, pro, m2ts, dvd, qt, f4v, flv, mp3, ac3, mkv, webm, xvid, bmp, mpeg, pam, pbm, pcx, pgm, pgmyuv, png, ppm, sgi, tiff, AVI, FLAC, Video FLASH, GIF, Quicktime DV/H264/H264 NTSC/H264 1080P Video, WMV, Real Media, MXF, OGG, WAV, MP4 H264, JPEG, youtube, and many more.
8K Support: Cinelerra-GG can process video media up to a resolution of 8K.
YouTube Rendering Presets: They have included the right YouTube presets in the render window, so you don't have to worry about the technical details of the video.
Keyframe Support: This allows you to make any changes to the effects at any point in your project.
LV2 Support: Cinelerra-GG is one of the few video editing programs that supports the LV2 audio plugin interface.
Render farm: Cinelerra allows background rendering over a network with several connected computers. This feature can significantly speed up rendering by distributing the rendering task across multiple computers.
Proxy Support: With Cinelerra older and weaker computers can be used for video editing without any problems. With the help of Webm format, Cinelerra reduces the video media up to a factor of 5 to 10, which makes editing the video in the timeline much easier.
Supported Platforms: Linux
Checkout Cinelerra
10. Olive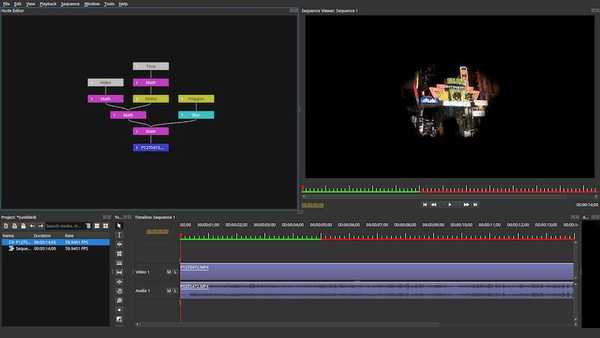 Olive upcoming open source video editor being build from ground up. It is still in development phase but, so not much can be said about its features.
But, you can still try experimental alpha builds and try out olive before its stable version is released globally.
It is yet too early to talk about the features, because the software is still in development but few of the key features are listed below.
Features:
Disk Cache: Even with high bandwidth 4K video, Olive manages to stay performant and cache frames equal if not faster than playback speed.
Color Management: Olive 0.2 features end-to-end color management provided by OpenColorIO. It allows you to match footage from multiple cameras as well as export your footage to whatever color space you need.
Supported Platforms: Windows, Linux, Mac
Checkout Olive
11. VidCutter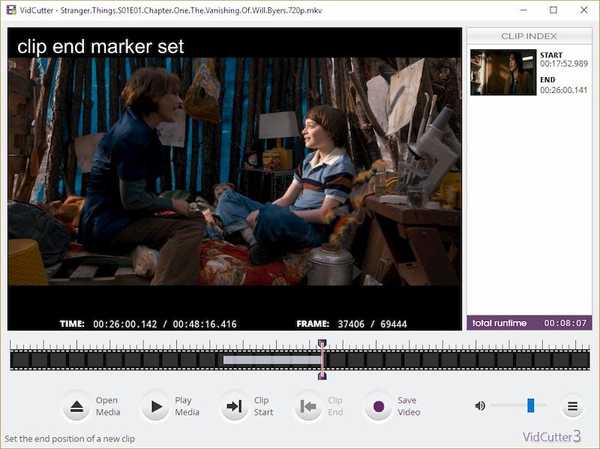 VidCutter is a modern, simple to use, constantly evolving video editing software with frame-accurate SmartCut technology, chapter support, media stream selection for audio + subtitle channels, and black detect video filter.
VidCutter is now available as a flatpak at Flathub, all dependencies come bundled with it, including the very latest stable releases of MPV, FFmpeg, MediaInfo, and associated codec libraries.
Features:
Playback: OpenGL hardware accelerated playback.
SmartCut: SmartCut frame-accurate cutting option.
Accurate Seeking: Timeline thumbnails for more accurate seeking
Other: Keyframes viewer.
Supported Platforms: Windows, Linux, Mac
Checkout VidCutter
12. Pitivi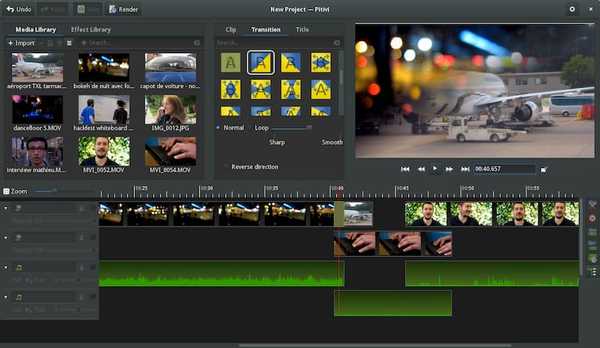 Pitivi is yet another free video editor but only available for Linux operating system. It has been in continuous development and new features are added with each new release.
Pitivi has a clean and intuitive user interface. You can install the lastest version of Pitivi using Flatpak.
Features:
Formats: Supports all major video formats.
Effects: Support advance animations and transitions.
Previews: Support Real-time trimming previews.
Supported Platforms: Linux
Checkout Pitivi
FAQs
Which open source software can be used for video editing?
Some of the best open source video editors are: KDENlive, Shotcut and Blender.
Is OpenShot good for YouTube?
Yes OpenShot can be use for editing Youtube videos. You can use this free video editing software for Youtube videos.
What is the best video editor for free?
All the open source video editors are free like Blender, OpenShot and many more.
Final Words: Use The Best Free Open Source Video Editor
So, before wrapping up I would love to hear your suggestions about the open-source video editors. Are they good enough and able to compete with their close source counterparts?
If there is any open source editor that should be on the list, then feel free to drop your suggestions in the comment section below. And if you enjoyed the article then please consider following us on Facebook or Twitter for latest tech updates.