18 Best Websites to Download Subtitles for Movies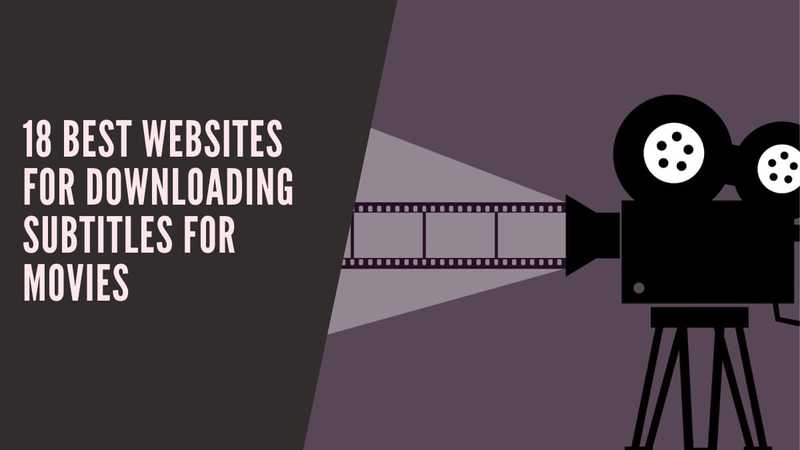 Looking for the best websites to download subtitles for movies, then here is a curated list of best sites for downloading movie subtitles.
Subtitles are must-have for watching movies and shows, especially when the movie or show is not in your native language.
Apart from that, it might even help you to learn new words to add to your vocabulary.
Most of the users usually know some of the best websites to download movies and shows, but few know that there are top websites for downloading subtitles for movies too.
Whatever be the reason, in this guide we will be listing 19 of the best sites to download subtitles for your favorite movies or TV shows.
1. Podnapisi

Podnapisi is easy and simple to use the website for movies and TV shows subtitles.
It has a nice and clean interface and contains over 2 million subtitles for 58,797 movies and 6,675 series in 100 languages. 61,348 are contributed by the community and 99,694 are adapted for hearing impaired and hard-of-hearing (SDH) viewers.
Podnapisi allows you to search using an advanced search tool, with options for keywords, years, language, and more.
2. YIFY Subtitles

One of the popular websites for downloading subtitles is YIFY Subtitles. Like Podnapisi, it has a nice and clean interface.
Unlike some of the other significant sites, YIFY Subtitles only offers movie subtitles for download.
YIFY Subtitles also allows you to search for subtitles based on different genres like animation, crime, family, etc.
They also have a page dedicated to each movie and offers information on the movie, including length, release date, and rating, with available subtitles listed below.
3. Subtitle Seeker

Subtitle Seeker is also a good place to find subtitles for your movies or TV shows.
It has subtitles for all the popular movies and shows.
Subtitle Seeker also allows you to search for subtitles. The subtitles are in the usual .srt format.
4. Addic7ed

Addic7ed has an excellent minimalistic look and hosts lots of subtitles for movies and TV shows.
Its main page shows all the newly released subtitles along with most downloaded and latest uploaded subtitles.
Addic7ed also provides two search options, one called quick search where you can quickly search from a list of available subtitles and other option allows you to search for specific subtitles.
5. TVSubtitles.net

TVsubtitles.net has plenty of subtitles in over 18+ common languages including German, Spanish, English, and others.
Navigating through TVsubtitles.net is easy there is one section for the most downloaded subtitles, one for the newly released, another one for the top TV shows.
TVsubtitles.net also allows you to upload your own subtitles, you just need to create your account and start uploading.
6. Open Subtitles
Open Subtitles is the most prominent open-source platform for subtitles.
It has a great search tool that allows you to filter search results based on a particular season, genre, episode, and release date.
Open Subtitles also provides an option for uploading subtitles, and you can even request for a caption.
Lastly, the website has been translated into many languages, so navigating your way through the site becomes much more accessible.
7. Subscene

Subscene with its huge database of subtitles for many films and TV shows is a well-known place for downloading subtitles. Subtitles are available in many languages including English, Hindi, Greek, French, and many more.
Subscene has a great search tool which allows you to search subtitles based on a particular language
Subscene also has its own discussion forum where you could request subtitles of any movie or TV show and you could also upload your own subtitles.
8. Downsub

Downsub is different from all the other mentioned subtitle downloading websites, in a sense, that it is not a website but a web application.
Downsub downloads the subtitles directly from Youtube, VIU, Viki, Vlive, and more.
To download subtitles, you need to copy-paste that video's URL in the provided area. The subtitles are present in three different formats: SRT, TXT, and VTT.
However, there is a drawback, and if you don't have the URL of the desired TV/Show or movie, then this site becomes completely useless.
9. Subs4Free
Subs4Free homepage consists of all the latest movies and TV shows subtitles along with tags of movies and TV shows that have the maximum number of fo downloads.
Subs4Free also allows you to search for subtitles. It is one of the best sites for downloading movie subtitles.
You can also upload your subtitles, for that you need to register yourself on the website.
10. English-Subtitles.org

English-Subtitles.org is well organized and has neatly arranged all these subtitles into different sections.
This site also allows you to search for subtitles.
They have their own forum where you can have to share your personal opinions about the TV shows and movies or you can add or request subtitles for movies and shows.
English-Subtitles.org also has an Android application available.
11. Subtitles.hr

Subtitles.hr has a plethora of subtitles available in different languages.
Navigating through the website is also easy. Subtitles.hr also allows you to search for subtitles and you can also narrow search results by selecting the first letter of the subtitle.
Apart from downloading, you can also upload your own subtitles.
12. MovieSubtitles.Net

This website has the most basic design, kind of giving you the classy look of the '90s.
There is a search bar situated at the top left. You type in the desired subtitle name, and it will bring you the list of all the available subs related to your search.
There is also box type with the heading navigation at the right side, which contains all the links which can help you navigate the website if you lost your way.
13. iSubtitles

iSubtitles has a clean minimalistic look and navigating the website is simple.
On the home page, you can find subtitles for recently added movies and shows. It also shows an IMDB rating for the movies.
You can also search for particular subtitles using the search bar situated at the top. All in all one of the best to download subtitles for movies.
14. Bollynook

To all the Bollywood freaks out there, your search for finding Bollywood movie subtitles has finally ended.
This site is dedicated specifically to Bollywood movies.
The site supports around 50+ languages. You can also download Bollywood song lyrics and can even upload your own subtitles.
15. Easy Subtitles

Easy Subtitles is similar to Downsub in its functionality. You just have to paste that video's URL into the search box for subtitles.
But it goes an extra step if you don't have the URL available you can drag and drop the video file over to the site.
It will then automatically scan the video and bring up the associated subtitles.
16. Ondertitel

This site has a minimalistic feel to it. On the homepage, you get a search bar.
To find a subtitle you need to enter the movie or show name and it will give you the preferred search results.
Ondertitel has a good collection of subtitles available and also provides a short snippet and an IMDB rating about the show or movie that you are about to download.
17. Subtitles

Subtitles is a full-fledged application available both for macOS and Windows. To search for subtitles you just drop your videos into Subtitles app and let it do its magic.
It analyzes the contents of the video files to determine the subtitle to download. Although Subtitles is very easy to use, it doesn't have all the subtitles available.
Subtitles support any type of video, it doesn't matter which codec or extension your file uses.
You need to buy the license to be able to use the app long-term otherwise you can only use this app for a trial period of 30 days.
18. DivX Subtitles

Although the website is not that good looking, it serves its purpose very well and has a maximum number of DivX, DVD, and HDTV subtitles.
DivX Subtitles provides a search bar to find subtitles easily.
It also has its own forums where you can discuss movies and shows. Apart from that, you can also upload your own subtitles.
Conclusion: Use the Best Sites For Downloading Movie Subtitles
These were some of the websites for downloading subtitles for movies and TV shows.
If you find any mistakes or there is some website that you think needs to be on the list then feel free to drop a comment below.
If you enjoyed the list, then please do share this article.