11 Best Free Word Processor Alternatives to Microsoft Word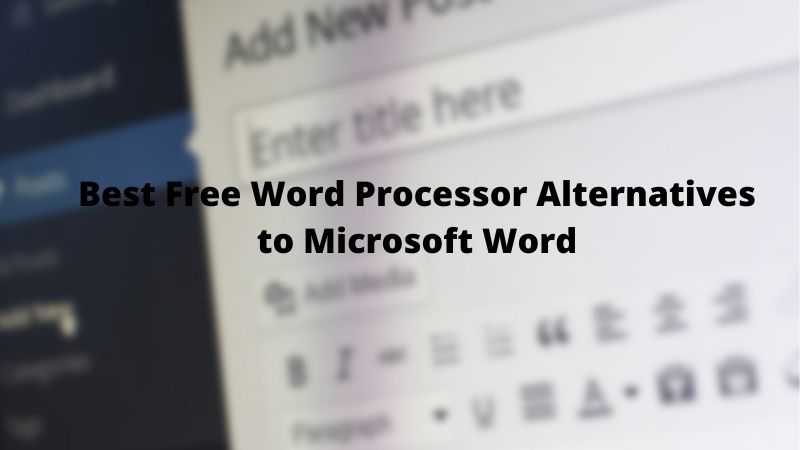 Looking for the best free word processor alternatives to microsoft word, then here is a curated list of best free word processor alternatives to microsoft word you can use.
Not everybody can afford to buy a Microsoft Office suite, and for someone who occasionally performs some light document creation/editing, then buying a full-fledged Microsoft Office suite is not preferable. Although the Microsoft Office suite offers plenty of features and is tough to replace, there are some good free and open-source alternatives available out there that offer most of the features and functions that Microsoft Office provides.
In this article, we are going to provide you with a list of the best free word processor alternatives to Microsoft Word.
One thing to note here is that there can be compatibility issues with moving document formats between software platforms, especially when importing to Microsoft Word.
Note: Some of the software mentioned here provide a full alternative to Microsoft Office suite i.e. word processor, spreadsheets, PowerPoint, etc. while some only provide word processors. In this article, our main focus is to provide you with a list of the best free word processor alternatives to Microsoft word.
So, let's get started with the list of best word processor alternatives to Microsoft Word that you can use right now.
1. LibreOffice Writer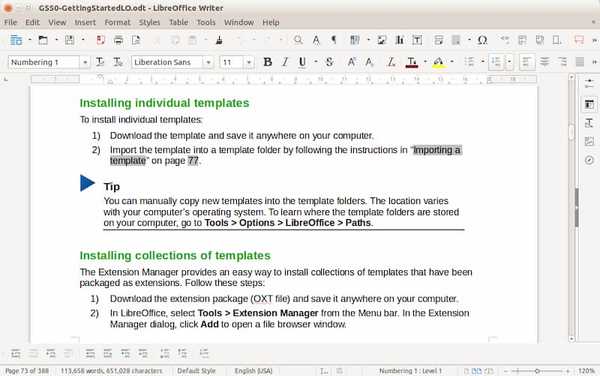 LibreOffice is one of the most popular free and open-source office suite alternatives to Microsoft Office. LibreOffice is a successor to OpenOffice.org and is by far the most active continuation of the OpenOffice.org codebase, with releases every six months and hundreds of contributors.
LibreOffice is compatible with a wide range of document formats such as Microsoft Word (.doc, .docx), Excel (.xls, .xlsx), PowerPoint (.ppt, .pptx) and Publisher. LibreOffice uses Open Document Format (.ODT), but it also supports other document formats including .doc and .docx format. You can also export document as a PDF file.
Libre Office is available for Windows, macOS, and Linux.
2. Apache OpenOffice Writer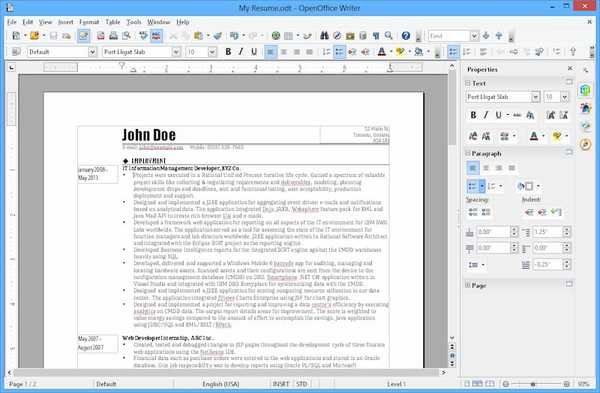 Apache OpenOffice Writer is simple to use and is powerful enough to create complete books with contents, diagrams, indexes, etc. Apache OpenOffice writer provides all the features that a typical word processor should have. Its user interface is somewhat similar to LibreOffice Writer.
Apache OpenOffice Writer supports Open Document Format (.ODT) along with support for .doc and .docx file formats. It also allows documents to be exported in .pdf format so that what you write is what your reader sees.
Apache OpenOffice Writer is available for Windows, macOS, and Linux.
3. Google Docs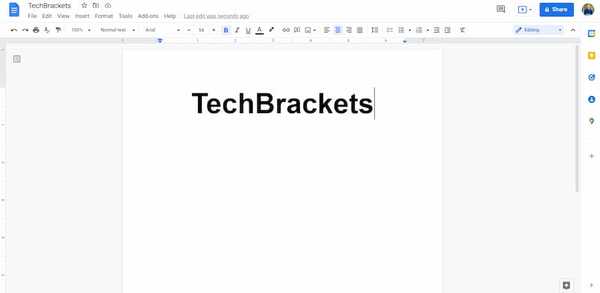 If you don't want to install a word processor and want something that is fast, free, and provides all the features of a word processor, then Google Docs is the best option for you. Google Docs is an online word processor included as part of the free, web-based Google Docs Editors suite offered by Google.
Google Docs allows creating and editing documents online while collaborating with other users in real-time. Google Docs supports OpenDocument, Rich text format, plain Unicode text, zipped HTML, and Microsoft Word formats. It also allows you to export your documents as PDF files.
To get started with Google Docs, all you need is a browser and a Google account.
4. WPS Office Writer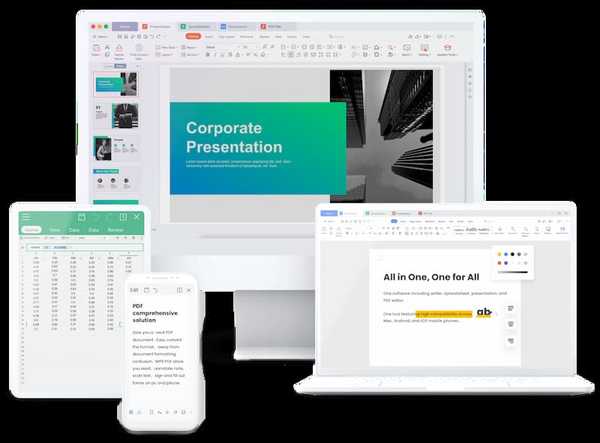 WPS Office (previously known as Kingsoft Office) is an office suite for Microsoft Windows, macOS, Linux, iOS, Android, and HarmonyOS. The personal basic version of WPS Office is free to use, a professional-grade version can be availed for a subscription fee.
WPS Office writer has a nice and modern interface and is easy to use. WPS Office also allows you to sync your documents online so that you can access them from anywhere. It has its own cloud storage, offering 1GB free cloud storage.
WPS Office writer supports all Microsoft Word file formats (including legacy ones) along with Open Document Format.
5. AbiWord
AbiWord is a free and open-source software word processor. AbiWord is part of a larger project known as AbiSource, which was started by the SourceGear Corporation. AbiWord has all the latest and greatest of a typical word processor.
AbiWord supports both basic word processing features such as lists, indents, and character formats, and more sophisticated features including tables, styles, page headers and footers, footnotes, templates, multiple views, page columns, spell checking, and grammar checking.
AbiWord uses .abw as its native file format andhas support for Microsoft Word (.doc), Office Open XML (.docx), OpenDocument Text (.odt), Rich Text Format (.rtf), and text documents (.txt).
6. ONLYOFFICE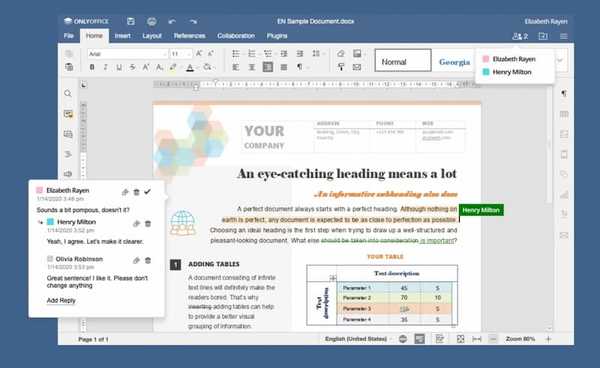 OnlyOffice (formerly TeamLab) is is a free software office suite developed by Ascensio System SIA. ONLYOFFICE supports all popular formats: DOC, DOCX, ODT, TXT, PDF, HTML. It also allows you to create your own server where you can share your and edit documents along with your teammates.
It allows you to choose between two co-editing modes - real-time or paragraph-locking. You can also compare two documents to see the differences with revision marks and can accept or reject the changes. ONLYOFFICE has support for third-party add-ons which can be used to enhance your editing capabilities.
ONLYOFFICE is cross-platform and is available for Windows, Linux, macOS, Android, and iOS. They also provide an online document editor which you can use directly in your browser.
7. Calligra Words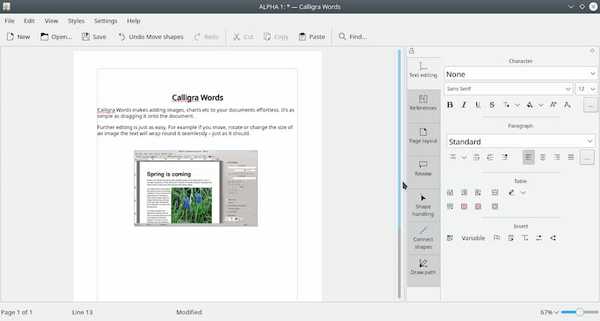 Calligra Words is a word processor developed by KDE as free software. It is available for Linux, macOS, and Windows. Calligra words has native support for ODF documents and also supports editing of both .doc and .docx files.
Calligra words provide all the functionalities of a typical word processor. It is easy to navigate and use. Calligra words support exporting documents as PDF files.
8. Word Grinder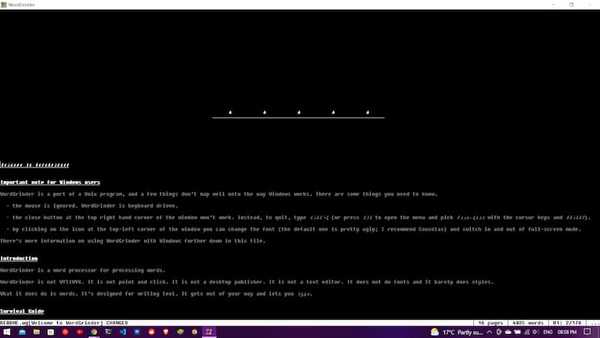 If you are in search of something which is minimalist and has a retro feel then Word Grinder is best suited for you. Wordgrinder focuses on creating a minimalist word processing environment in order to reduce distractions for the end-user.
Word Grinder is designed to be a simple word processor and nothing more. It doesn't have all the latest and greatest features like other word processors have. According to their website, "It is not a text editor. It does not do fonts and it barely does styles. What it does do is words. It's designed for writing text. It gets out of your way and lets you type".
Word Grinder provides features like OpenDocument import and export, HTML import and export, Markdown import and export, Single- and double-width Unicode character support, and LaTeX and Troff export.
9. FreeOffice

FreeOffice 2021 is a complete Office suite with a word processor, a spreadsheet application, and a presentation program. It is easy to navigate, free to use for both personal and business applications, and has a user interface somewhat similar to Microsoft Office. Whether you want to write business letters or complete scientific papers FreeOffice has got you covered.
FreeOffice supports all Microsoft Office file formats like DOCX, XLSX, and PPTX. FreeOffice TextMaker supports spell checking via Hunspell dictionaries, helping you find typos in dozens of languages. FreeOffice provides features like PDFs with tags and bookmarks, Opens and saves documents in RTF, HTML, Pocket Word, ASCII, and Unicode formats, tracks all changes made to documents, and enables you to accept/reject them later.
FreeOffice is available for Windows, macOS, and Linux.
10. Etherpad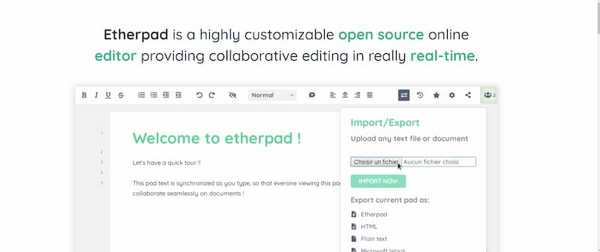 Etherpad is an open-source, web-based collaborative real-time editor. The software was acquired by Google in December 2009 and released as open-source later that month. Further development is coordinated by the Etherpad Foundation.
Etherpad allows you to edit documents collaboratively in real-time together with your friends, fellow students, or colleagues. Etherpad also has support for plugins that allow you to customize Etherpad.
The documents edited on Etherpad can be downloaded in plain text, HTML, Open Document, Microsoft Word, or PDF format.
11. FocusWriter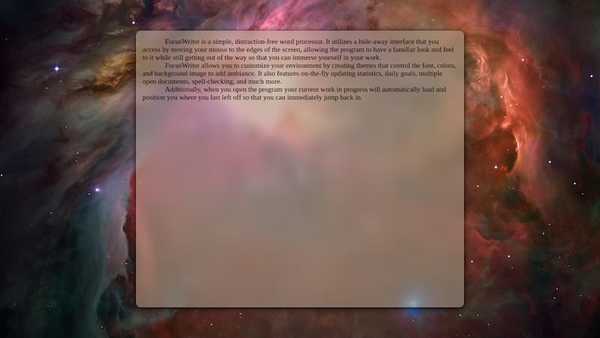 FocusWriter is another popular word processor aimed at users who want a minimalist and distraction-free writing experience. FocusWriter hides most of its own user interface, and pretty much just leaves you with somewhere to write.
FocusWriter uses Open Document Text (.ODT) as its default file format. FocusWriter provides basic word processing with only basic text formatting and alignment. You cannot insert objects, tables, shapes, or any sort of images in your document.
It is available for Linux and Windows.
FAQs
Will I be able to edit .doc and .docx files?
Yes, all of the software mentioned above allow you to edit .doc and .docx files. However, note that in some cases the formatting of the document may change if you open a file edited in Microsoft word in one of these wword processors.
What is Open Document Format?
OpenDocument, is an open standard file format for spreadsheets, charts, presentations and word processing documents using ZIP-compressed XML files. It is used by all the free and open source word processors as alternative to Microsoft word file format.
Does Microsoft Word support Open Document Format?
Yes, Microsoft Word supports Open Document Format.
Final Words: Best free Microsoft Word alternatives
The above list contains the best free word processor alternatives to Microsoft Word. So, go ahead and give them a try and tell us which one do you like. Also, if there are some free word processors that need mention here feel free to drop your suggestions in the comment section below.
If you liked the article, consider following us on Twitter to get the latest tech news and updates.