11 Best App Lockers For Android To Lock Apps in 2022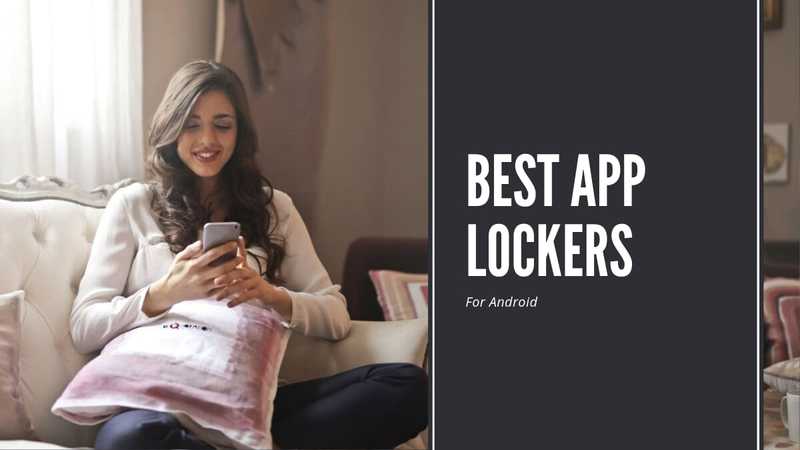 Looking for best app lockers for android then, today we will share 11 best app locks for android to help you protect your privacy.
I get it, a smartphone is a personal gadget, and nowadays, smartphones have become an indispensable part of our lives. Smartphones contain a lot of personal and sensitive data.
We have our photos, messages, social media profiles, and more importantly, our banking applications.
So, we want to protect it from prying eyes. In some situations, you might want to prevent someone from accessing some specific apps on your smartphone.
So, the simplest solution is to lock apps using app lockers.
How to Lock Apps on Android
The answer is simple by using an app lock. An app locker for android is one the simplest way to enhance security and privacy.
With App locker, you can lock apps and set pin, fingerprint, or pattern to unlock those apps. The pin, fingerprint, or pattern can be different from the one which you might be used to unlock your android smartphone.
Android doesn't offer built-in functionality to lock individual apps, but some custom ROMs does like MIUI, Lineage-OS, Oxygen OS, etc.
But the best part is...
There are no shortages of android apps to lock apps on Google play store. So if you are on stock android, then to lock apps, you need to install an app locker from the play store.
Today, we will help you in selecting the best app lock and privacy app locks for android. Let's get started with the list of best app lockers to protect your privacy.
The list includes both free and paid app locks. But most of them are free. So, select a single app locker that you like.
Best App Lockers For Android in 2022
1. Applock by DoMobile Lab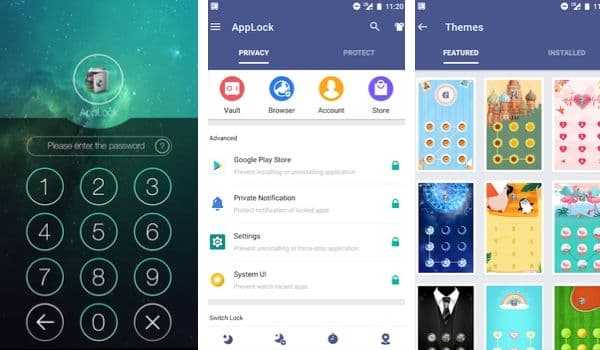 Rating: 4.3 | Price: Free
Applock by DoMobile lab is one of the most downloaded app lockers out there. With over 400 Million downloads, this app locker is undoubtedly the best app lock for android.
Applock lets you lock apps with password, pattern or fingerprint lock. Not only apps, but this app locker also allows you to hide pictures and videos as well.
For this specific purpose. It has a vault, where you hidden photos an videos from the gallery will be visible.
To further enhance, the security of the locker, App lock has a random keyboard and invisible pattern lock options.
Moreover, it offers well-designed themes, and intruder selfie option will help you take photos of intruders.
Also, it has uninstalled protection, then prevent someone from uninstalling the Applock app.
It has some more cool options like private SNS, hide app lock icon, brief exit, etc. All in all, this is the perfect app locker to lock apps for android.
Update: This applock has been banned by India.
2. Norton App Lock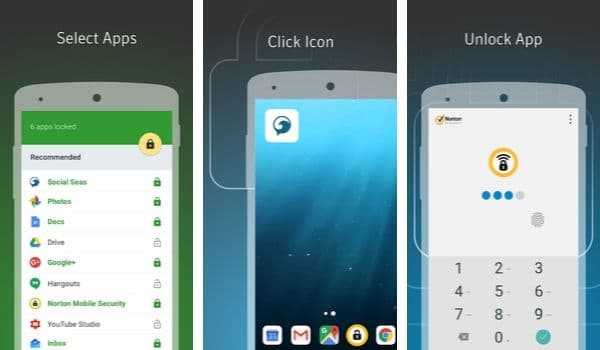 Rating: 4.6 | Price: Free
You have heard of Norton before, a popular name when it comes to antiviruses. And they do offer app locker for android. Norton App lock is entirely free, and the best thing is that the app doesn't contain any ads either.
It offers locking apps using a password, pin, or pattern lock screen. This feature adds a layer of security if in case your phone gets stolen.
Moreover, with this app lock, you can lock videos as well as photos. Norton App lock also has Sneak peek anti-theft option, which will take a picture of the intruder trying to unlock your android apps.
Norton provides a recommendation of which apps you should lock with app lockers, but you are free to choose apps.
3. LOCKit - App Lock, Photos Vault, Fingerprint Lock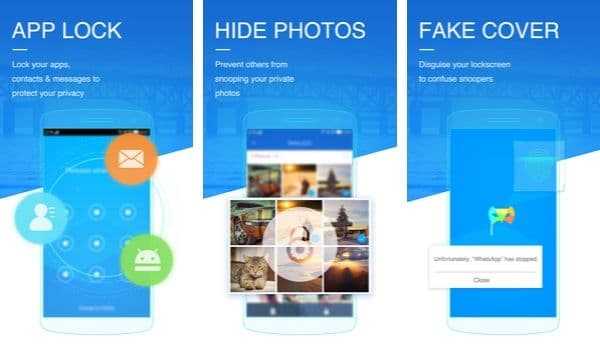 Rating: 4.7 | Price: Free
LOCKit is one of the highest-rated app locks for android on the google play store. Without a doubt, one of the most stable android locker.
Offered by SuperTools Corporation, it is entirely free.
LOCKit has tons of useful features, and this is one of the reasons why it is considered by many to be the best app lock and privacy guard for android smartphones.
It also provides features like intruder selfie, various themes, fingerprint lock option, notification lock, safety reminder tools, fake cover, and more privacy options.
This app lock can also lock incoming calls, notifications, prevent uninstalling Lockit, and much more.
If you want a light app locker with lots of useful features, then LOCKit is what I recommend.
Read: How To Download Instagram Videos and Photos on Android
4. MaxLock - Xposed App Locker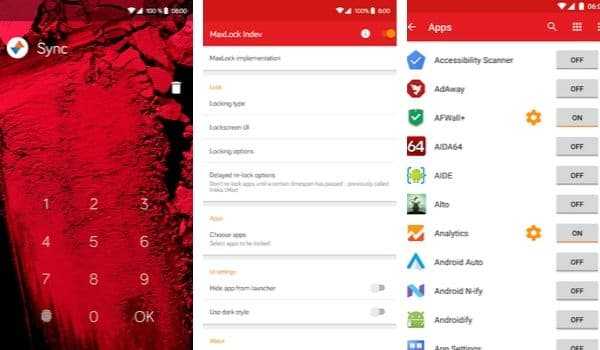 Rating: 4.6 | Price: Free
Maxlock is an open-source app lock for android. Being open-source, it is completely free. It is fast, lightweight, and uses a battery-friendly & efficient event recognition method instead of a polling service.
Unlike other app locks, it has no bloatware. Maxlock has beautiful and straightforward UI and has multiple locking options like Password, Pin, Pattern, Fingerprint, and Knock Code.
Knock Code lets you open apps on tapping on the specific area of the screen and a particular number of times.
It is highly customizable and allows per-app locking type and password, which no other app lock currently offers.
Moreover, Maxlock has fake crash features which false crashes the application when someone tries to open the locked app and uninstall protection.
You can hide notification and disable or remove the recent thumbnails of locked apps. It is one of the best locker apps to lock apps.
5. MAX AppLock - App Locker, Security Center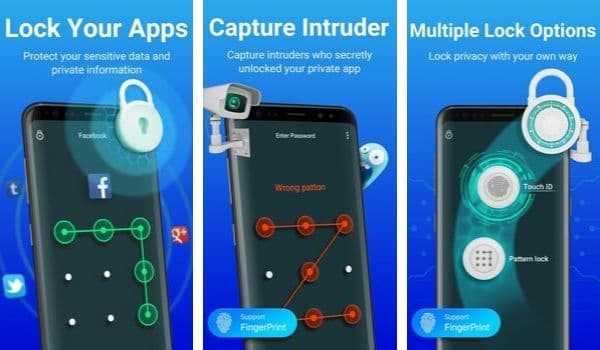 Rating: 4.7 | Price: Free
MAX Applock is another excellent option for protecting privacy by locking apps on your android phone. There are lots of features that make this app lock one of the best android locker apps for android.
It offers multiple app lock styles to lock apps. Max Applock provides more options like intruder selfie options that take a photo of the intruder who tries to unlock your smartphone.
Also, like other apps top, it allows hiding photos and videos stores that file in the vault.
Notification organizer is also an advantage that hides unwanted app notifications. Look cover fakes the unlock screen into an error report.
It also has a built-in cleaner for removing junk files though this makes this app lock little bit power-hungry.
6. AppLock by IvyMobile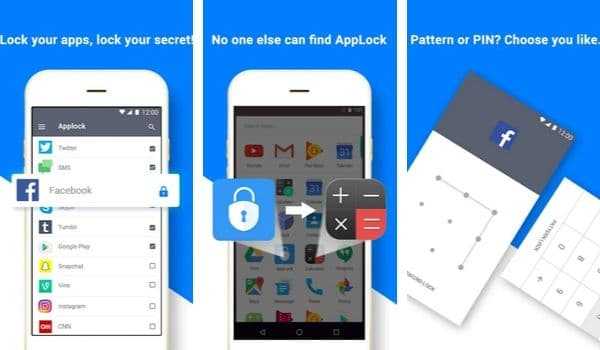 Rating: 4.4 | Price: Free
Applock by IvyMobile is one of the great apps to lock apps. Applock can lock apps with different options like password, pin, and pattern.
You can choose your favorite themes from Applock theme store, or you can use your photos as a background.
With Applock, you can replace its icon with other icons like alarm, calendar, Weather, a notepad.
It enhances privacy so that others will find it difficult to find this app.
If you find app lock using more battery, then it has a power-saving option which will reduce the battery consumption.
It lacks unlocking with the fingerprint option.
7. AppLock - Fingerprint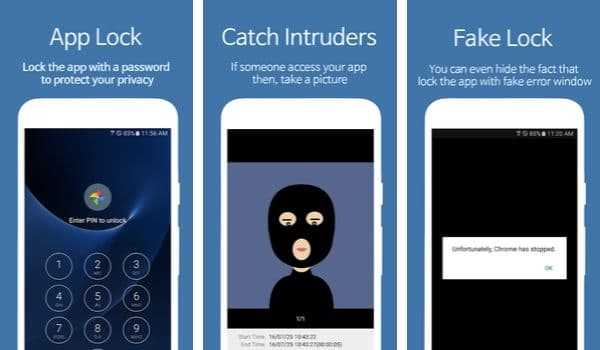 Rating: 4.3 | Price: Free
Again one of the best apps to lock apps and offers different options like password, pin, and pattern.
It has tons of features like Fake lock with lets to hide the fact that you use an app lock by display error windows, catch intruders feature which will take a picture is someone tries to unlock any app.
The app is simple, light, and fast which supports over 31 languages.
8. AppLocker by BGNmobi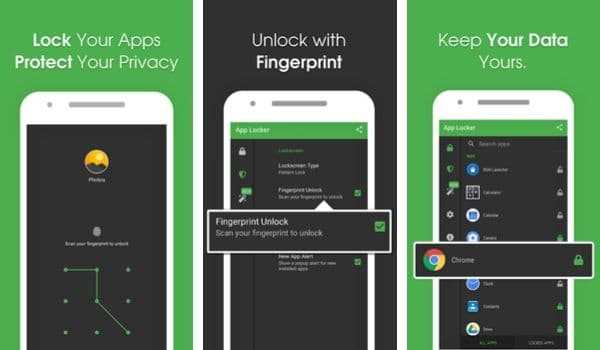 Rating: 4.4 | Price: Free
Applocker by BGNmobi is an app protector that lets you lock and protect apps using pattern, password, or fingerprint.
You can hide apps using this app locker with different themes options available. It also lets you prevent uninstalling apps from your android phone.
Applock by BGNmobi is a lightweight Android app locker option. Based on the material theme, the UI of this application is simple and elegant.
Moreover, you can also hide your photos and videos using this app lock.
9. Apps Locker Master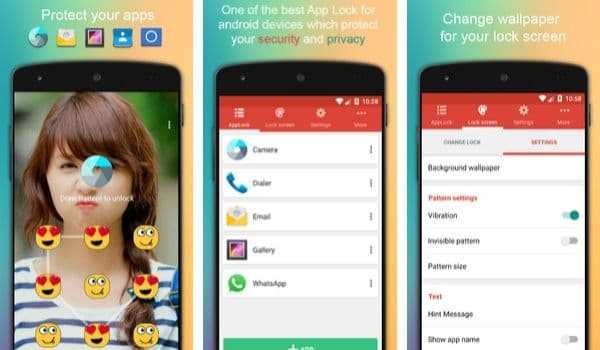 Rating: 4.5 | Price: Free
App locker master is fast and lightweight Android app lock. You can lock apps and protect installing or uninstalling apps.
You can lock apps using pattern and pin. Moreover, you can customize its look by changing the background of the lock screen with images.
For more privacy, you can hide the Applock icon and using random password keys, pattern size, and invisible pattern.
And like other app locks, it also offers intruder protection which takes the selfie who tries to open the locked apps.
10. Smart App Lock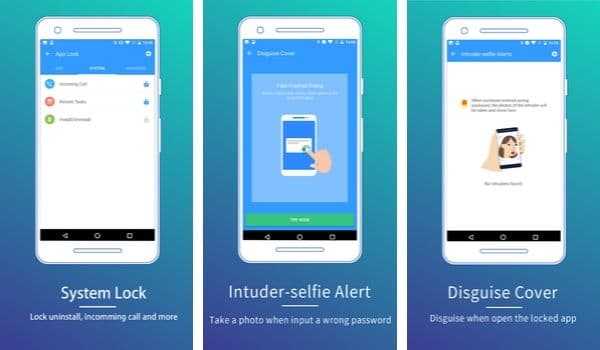 Rating: 4.5 | Price: Free
Smart App lock is another great privacy guard and app lock for android. The design is elegant and straightforward.
Smart App lock offers locking apps using pattern, pin, and fingerprint.
It also has intruder selfie alert which takes a selfie of the intruder trying to unlock the locked apps.
Moreover, Smart app lock also has a disguise cover option which disguises someone who tries to open the locked apps.
One thing that is missing in this app lock is that it doesn't have to uninstall protection. So, if someone finds it, then that person can easily uninstall it.
11. Applock by TopDroidTeam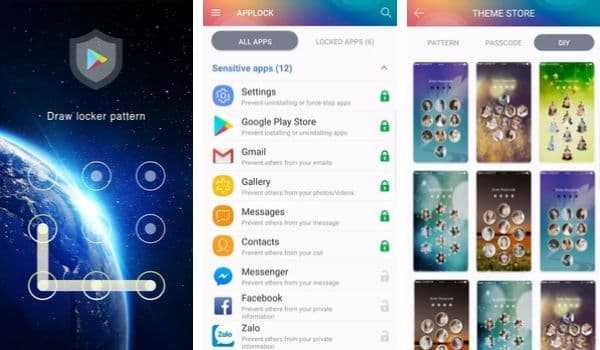 Rating: 4.6 | Price: Free
Applock is another excellent app to lock apps offered by Top Droid Team. Like any other app lock for android, you can lock apps with a password or a pattern.
Also, it has vault which you can use to hide images and videos. It does offer password and pattern lock themes.
Applock by Top Droid Team has three securities mode: Lock apps with password, pattern lock or DIY. The first two are self-explanatory. The third one, which is DIY lets you unlock apps with an image from your gallery.
Moreover, it does have the option to hide the screen pattern.
FAQs
How do I lock apps on Android
Android doesn't have a built-in app locker for android but there are tons of great app lockers for android available on Google play store that you can use to lock apps on android. Some of the best ones are Applock by DoMobile Lab and Norton App Lock.
Does Android 10 have App Lock
No, Android 10 doesn't have built-in App Lock. But many custom rooms do come with built-in App locks for Android like MIUI comes with App Vault. Anyways. there are tons of apps that you can download from play store to lock apps.
How can I hide my app
There are many apps that let you hide your android applications. In fact, many app lockers come with the option to hide apps from the launcher and home screen. Moreover, you can use various methods to unhide the app depending on what you like. AppLock is one such great option.
Is AppLock safe
AppLock one of the best and most popular app lockers for Android to lock apps. But every app is vulnerable to hackers but for that device must be rooted. And that is true for every app, as rooting exposes your device to security issues. So, if you have not rooted your android device, then using the app lock is fairly safe.
How do I lock apps with fingerprint
Many app lockers allow the functionality of unlocking apps using fingerprint. Some of the best options are Lockit and MaxLock if you are looking for locking apps with a fingerprint.
Final Words: Lock Apps with the Top App Locker for Android
That' it! These were the best app locks which you can use for your android device.
You can choose any one of the mentioned app lockers to lock apps and to ensure the privacy and security of your android device and your data.
So., try these apps to lock apps and let us know which one you are using in the comment section.
And if you liked the article, consider following us on Twitter to get the latest tech news and updates