Best Anime Streaming Sites To Watch Anime Legally And For Free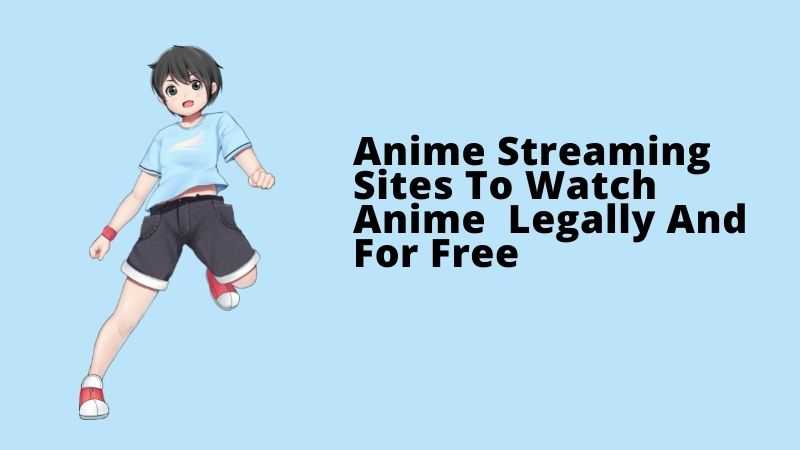 Looking for anime streaming sites where you can watch anime online free and legally? If yes, then we have got you covered.
This article contains a list of the best free anime streaming sites to watch anime legally.
1. Crunchyroll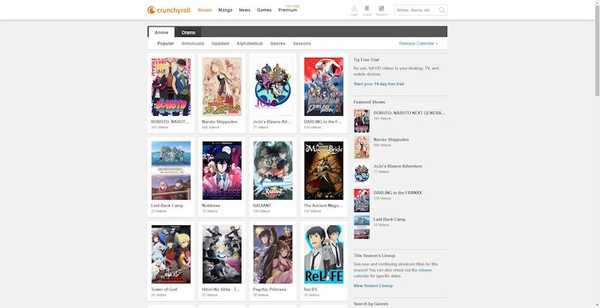 Crunchyroll, Inc. is an American distributor, publisher, production and licensing company focused on streaming anime, manga, and dorama.
Crunchyroll offers over 1,000 anime shows, more than 200 East Asian dramas to users, and around 80 manga titles as Crunchyroll Manga.
Crunchyroll offers paid premium plans, but you can also watch thousands of episodes of free anime online without a membership as long as you are okay watching ads. There are usually three ad breaks per episode.
2. Anime Planet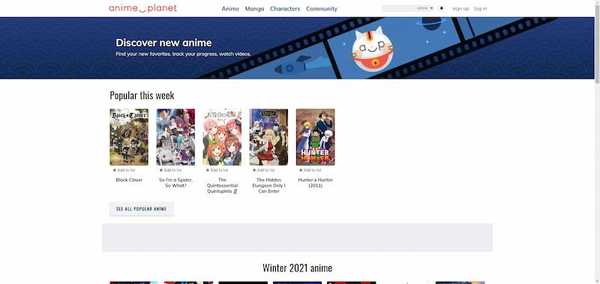 Just like Crunchyroll anime-planet allows you to watch free anime online. Anime-planet contains over 45,000 legal industry-supported anime episodes.
It hosts a library of free to watch animes including popular titles such as Naruto, Pokemon, Hikari: Be My Light, etc.
Anime-planet allows you to stream content in 8 different subtitles and with a video quality ranging from 240p to 1080p.
3. TubiTV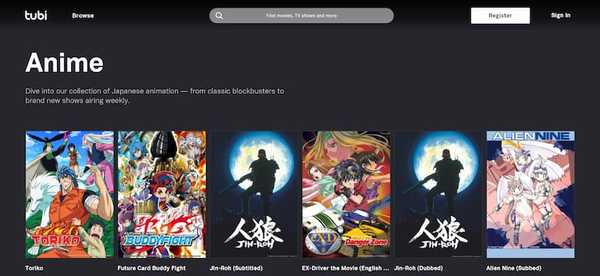 Tubi is an American ad-supported streaming service owned by Fox Corporation. Apart from TV shows and movies, it also lets you watch dubbed and subbed anime for free.
Tubi TV also has a huge collection of anime series of different genres. Tubi TV supports streaming quality from 360p to 720p.
4. Funimation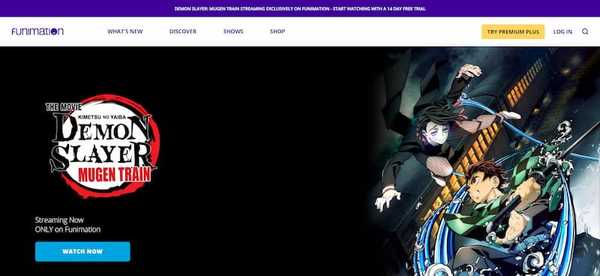 Funimation is another popular free anime streaming site. It has a huge collection of English dubbed anime. Most of the anime is free to watch with some ads.
Funimation also allows you to stream anime in high quality. Funimation allows watching anime of different genres. However, there is one thing: Funimation is only available in selected countries, but geo-restrictions can easily be bypassed with the help of a VPN.
5. CONtv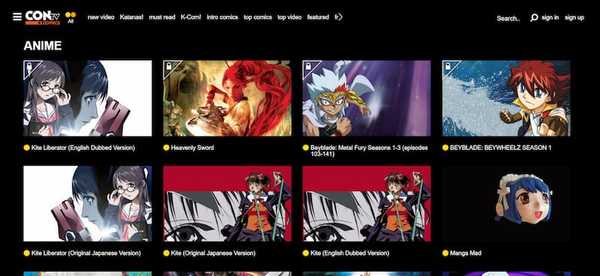 CONtv is a multi-platform OTT service providing content to the Comic-Con community. Launched in March 2015, the network is a joint venture between Cinedigm and Wizard World.
CONtv is one of the best sites to watch anime online for free. It has an attractive and user-friendly interface with well-defined categories to help you find what you are looking for.
CONtv contains a huge collection of anime series and movies. Titles like Mononoke, Kite, Samurai Troopers, Street Fighter, etc, and many more are available here. All the content can be streamed in HD quality.
6. Crackle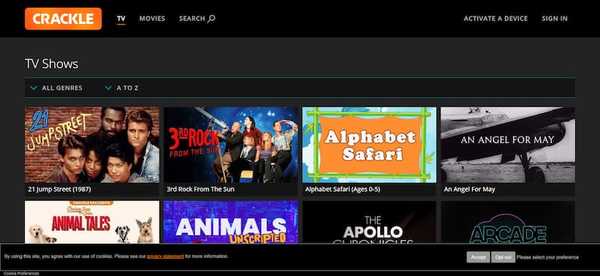 Crackle is a video streaming platform owned by Chicken Soup for the Soul Entertainment. The service was purchased by Sony Pictures in 2006 which renamed it Crackle in July 2007, and then Sony Crackle in January 2018. Sony sold a majority stake to Chicken Soup for the Soul in March 2019, which immediately renamed it Crackle.
The site provides high-quality videos and an ad-free experience. The service is available in 21 countries including the USA, Canada, Australia, and 18 countries in Latin America, however, you can use VPN to bypass geolocation restrictions.
7. Midnight Pulp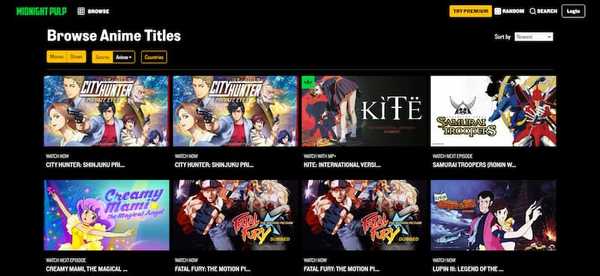 Midnight Pulp is another popular website to watch anime for free. Just like other websites, it has a lot of dubbed and subbed anime.
Midnight Pulp allows you to stream anime in HD quality but with some ads in between. All in all this website is great for streaming free anime.
8. Asian Crush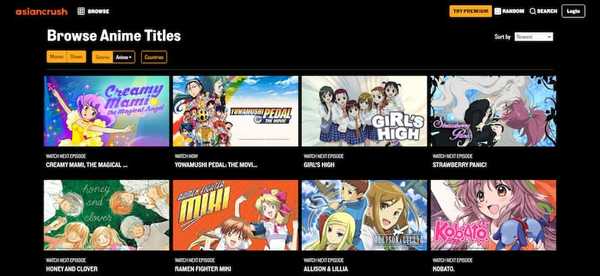 Asian Crush is another popular anime website that lets you stream anime for free. Just like Midnight pulp, it has a lot of dubbed and subbed anime. All the free content can be streamed in HD quality.
Even though all the content is not available for free and one has to buy a premium membership, but with a free account, you can watch anime that contain ads.
FAQs
Can Anime be streamed in HD quality?
Yes, you can stream anime from 240p all the way upto 1080p.
Is all the anime free to watch
No, some of the anime you can watch for free. To watch all anime you need to buy their premium plans.
Are these sites illegal?
No, all the sites mentioned here are legal.
Final Words: Watch Anime legally and for free
These are some of the best Anime streming sites to stream anime legally and for free. All of these sites contain huge database of anime movies and series of different genre.
Some of the content is free to stream without the need for any registration or sign up process.