20 Best PUBG Alternatives for Android in 2021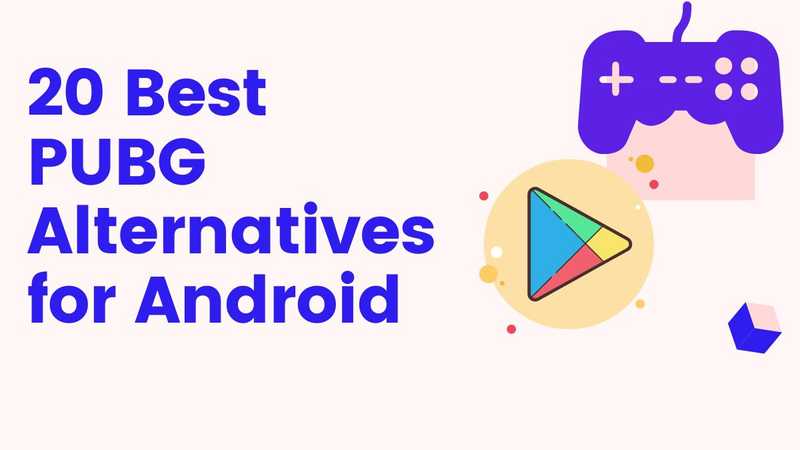 Looking for the best pubg alternatives for android, then here is a curated list of best pubg alternatives for android that I am sure you are going to like.
The launch of PUBG mobile took the android gaming market to a whole new level and quickly became the most popular Battle Royale game among mobile gamers. With the increasing popularity of PUBG mobile other game developing companies also decided to launch their own version of Battle Royal games for mobile users.
However, if you want to try something new and are looking for some other popular games in the Battle Royale genre, then you have come to the right place.
In this post, we are giving you the top 20 best PUBG alternatives that you can start playing on your Android phone right now. So let's get started.
1. Call Of Duty: Mobile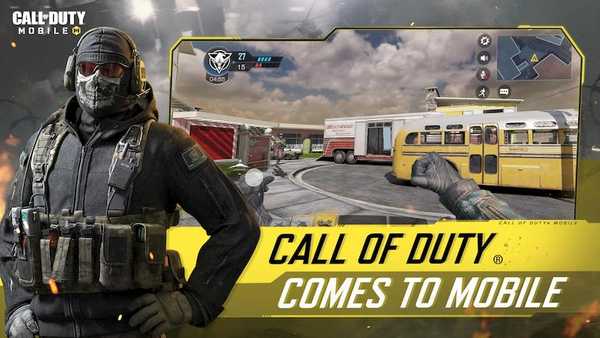 Call of Duty: Mobile is one of the best PUBG alternative in Battle Royale genre. Similar to PUBG you drop to a location and loot items and try to survive to the last. Call of Duty: Mobile offers everything that PUBG has to offer.
Apart from that, the game has tons of weapons, customizations, and other characters to unlock similar to other battle royale titles. The game is famous for its fast 5v5 team deathmatch and its amazing maps.
2. Fortnite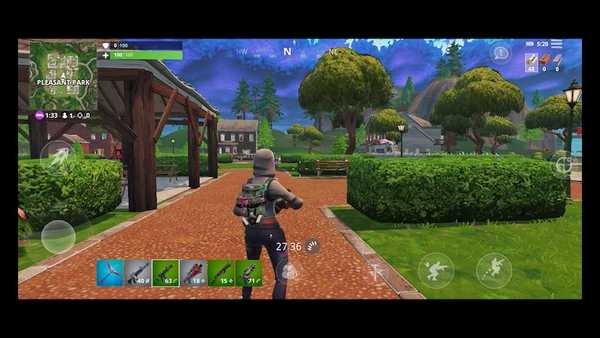 Fortnite another popular battle royale after PUBG. Fortnite has quite a large user base. Fortnite features 100 person battles from all over the world. Fortnite offers four distinct modes including 100-player battle royale, Party Royale, Creative, and Save the World.
Party Royale is a new experimental and evolving space in Fortnite where you can kick up your shoes and relax while enjoying minigames or join your friends to attend concerts, movies, and more!
Whereas in Creative mode you can create your own island and Save the World is a co-op campaign where you gotta save the world by battling monster hordes.
3. Battlelands Royale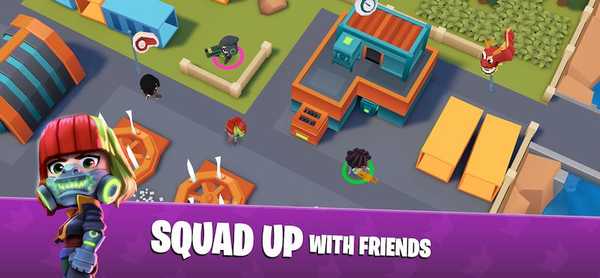 Battlelands Royale is a third-person battle royale shooter and a casual gun game for everyone to enjoy. Battlelands Royale features 32 person battles against players from all over the world. Each match lasts for about 3-5 minutes.
It is just like other battle royale games where you drop at a location loot weapons and armor and get ready for the fight of your life!
4. ScarFall: The Royale Combat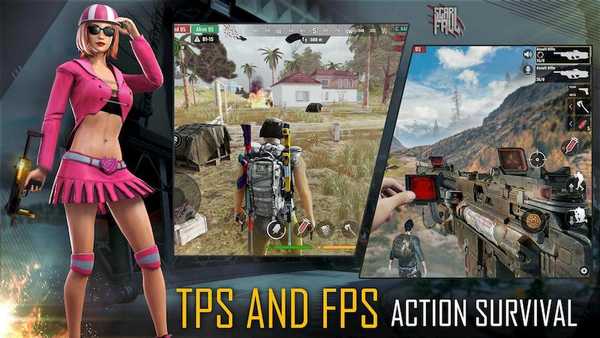 While playing ScarFall, it seems just like PUBG Mobile. ScarFall features team deathmatch and solo deathmatch which you can play online or offline with intense 4v4 squad mode. ScarFall also gives you the utmost 3 chances to re-spawn in multiplayer combat.
ScarFall offers a wide range of weaponry and melee weapons along with lots of customizations and clothing accessories for your character.
5. Garena Free Fire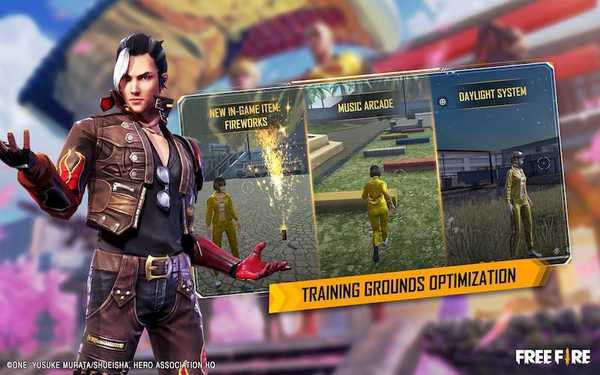 Garena Free Fire is another popular free to play battle royale title. Garena Free Fire features 10 minutes, 50 players all seeking survival. You got 10 minutes to kill all the 49 opponents and survive till the last. Garena Free Fire also allows you to create a 4-man squad with in-game voice chat.
Search for weapons, stay in the play zone, loot your enemies, and become the last man standing.
6. Rocket Royale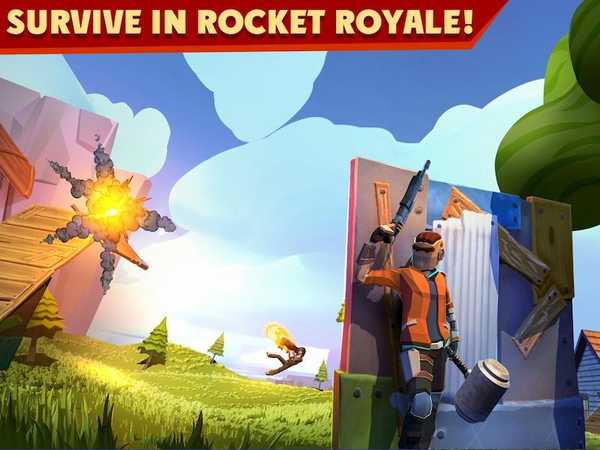 Rocket Royale with its similarity to Fortnite comes with a unique twist. In Rocket Royale being the last man standing is not necessary, here the main goal is to build a rocket and fly away from the island. To build a rocket you need to find crafting resources and also need to defend your rocket from being hijacked by other players.
Rocket Royale has not shrunk dead zones and you use portals to navigate your way around the island. So go ahead and download Rocket Royale, you are definitely going to enjoy it.
7. Danger Close - Battle Royale & Online FPS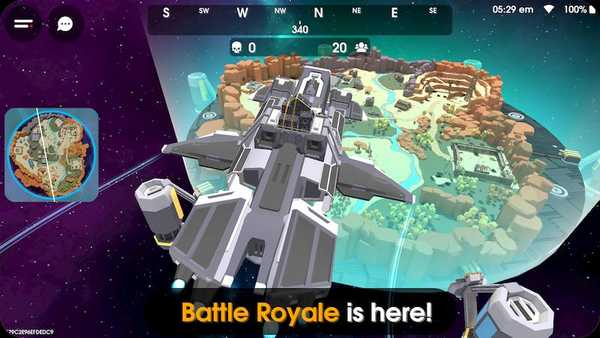 Danger Close provides action-packed intense fights. You choose to play in one of the 8 different maps. Danger close now has a new map that is much bigger than other maps with 5 brand new weapons and exciting mechanics such as recoil, looting, and an inventory system.
You can quickly join an online deathmatch and get to witness an intense action-packed fight.
8. Knives Out-No rules, just fight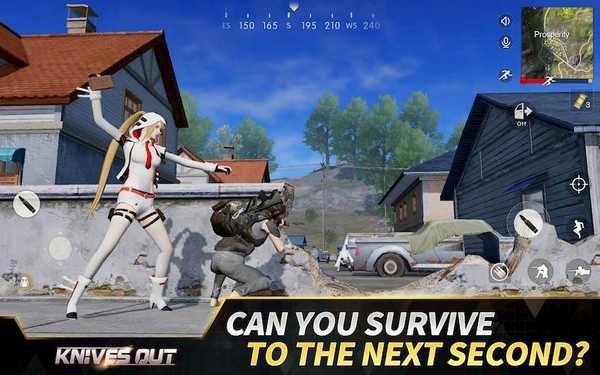 Knives out similar to other battle royale titles, where you have to survive to the last to be the winner. You can either play solo or create a team of five players and fight against the opponents to survive till the end.
Knives out also feature a sniper battle and 50v50 team deathmatch.
9. Creative Destruction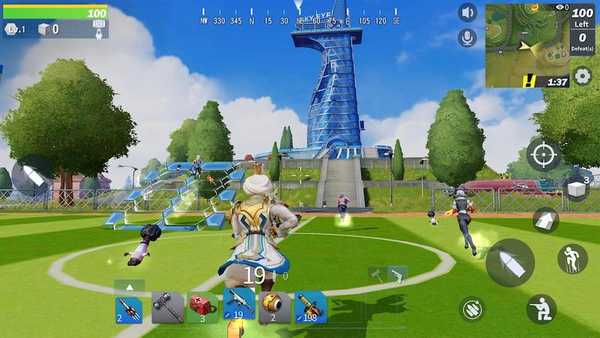 Creative Destruction with a lot of similarities with Fortnite is an action-packed battle royale genre. Just like Fortnite you can craft and destroy stuff.
Creative Destruction contains varied gameplay modes, weather, and time systems that bring a new level of hectic fun. Whether you fight like a lone wolf or team up, there are always surprises waiting to be explored.
10. Pixel's Unknown Battle Ground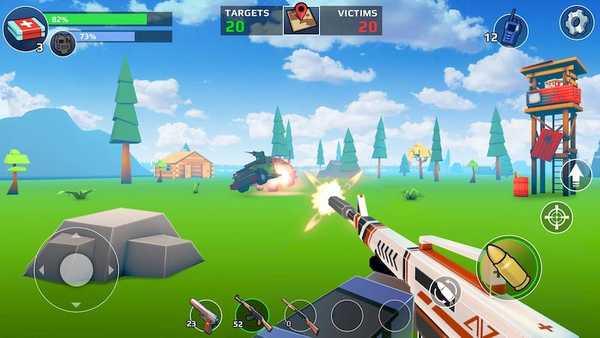 Pixel's Unknown Battle Ground uses pixel style graphics with much of the controls and game mechanics similar to that of PUBG mobile. You drop in a location, loot weapons and clothes for your character, and then try to fight and survive till the end. Most of the things that you have in PUBG are also available in this game.
The game is still in development so you may find some glitches. If you are a Minecraft enthusiast then you are definitely going to fall in love with this one.
11. Rules of Survival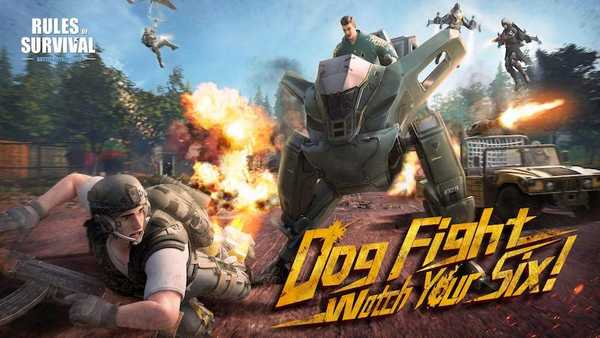 Rules of Survival presents you with an 8x8 km map that allows 300 players to battle on a wide variety of terrains. Just like another battle royale, you try to survive to the last.
Rules of Survival features solo or team mode in a 120 survivor's battle along with a wide variety of firearms and accessories.
12. Survivor Royale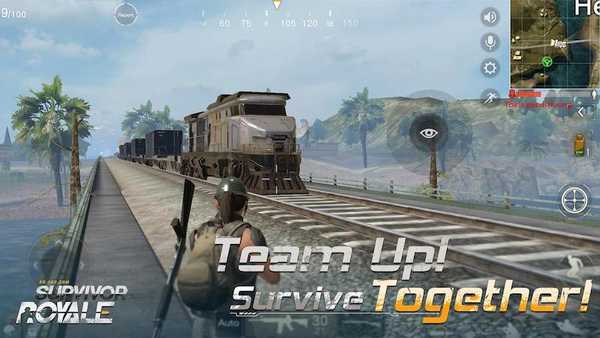 Survivor Royale is another first-person shooter inspired by the PUBG mobile. Up to 100 players are spread across a large map, all begin unarmed, forced to scavenge for the weapons and accessories. Match lasts for about 20 minutes and during that time the playable area contracts, forcing survivors into a fight to the death.
13. Zooba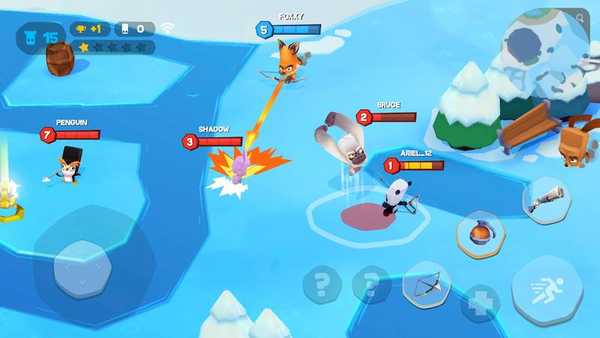 Zooba with its own twist is another popular alternative to PUBG mobile. Instead of normal human characters like in other battle royale titles, Zooba is based on animal characters. You can choose your favorite animal character and survive till the end in a 20-player deathmatch.
Zooba offers various upgrades and customizations to your characters. You win prizes and upgrade your character. Although it doesn't offer intense blood-filled fights like PUBG mobile, it is still fun to play.
14. ZombsRoyale.io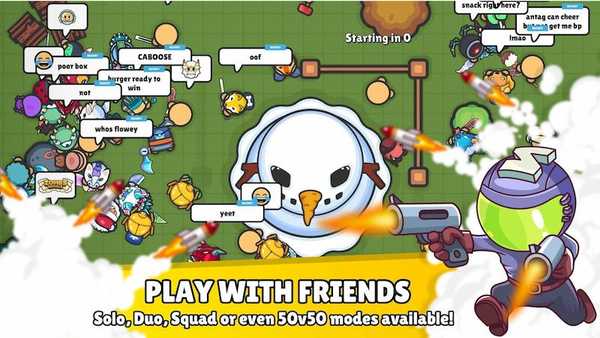 If you are a fan of retro games, then you will surely fall in love with this game. It has the same retro vibe with some modern enhancements. ZombsRoyale.io is an arcade shooter with battle royale stuff. It uses 2D graphics and has simple to learn controls.
15. Black Survival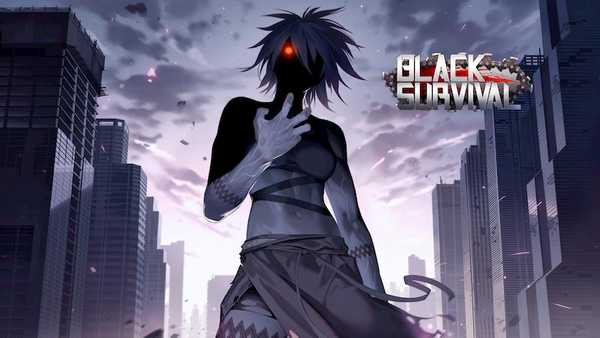 Black survival with its own twist is a little different than other battle royale titles. The game drops you with 9 other players on a deserted island. Island is divided into 22 areas, including Hospital, Forest, Beach, etc. As time passes, they turn into Restricted areas, narrowing the battlefield.
In order to survive, you will have to craft weapons with different ingredients that are hidden over the island and use them to defend yourself from other players. So you have to be quick.
16. Bullet League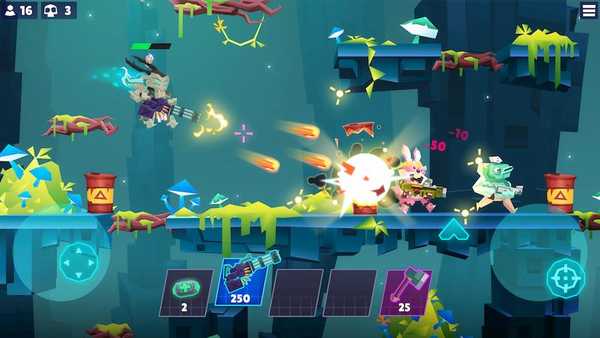 Bullet League is another popular contender in the realm of 2D battle royale titles. Bullet League brings all the excitement of battle royale games straight to the palm of your hand. It has simple controls and is easy to learn.
Apart from that Bullet League gives you an intense action-packed 3-minute deathmatch. Bullet League has multiple game modes, you can either play solo, squads, friend brawl, or deathmatch.
17. OVERDOX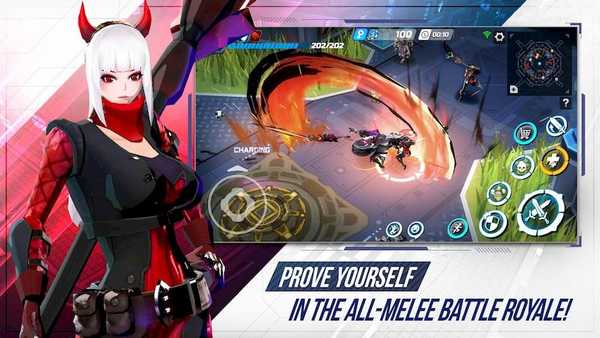 OVERDOX comes with gladiator-style arenas where characters fight with melee weapons till death. The arenas shrink as time goes by. OVERDOX provides you with an arsenal of over 100 pieces of equipment. You can customize your loadout by combining the various special abilities.
Upgrade your gear and characters as you win awards. Defeat your opponents wisely by using different attack strategies and special abilities.
18. Super Mecha Champions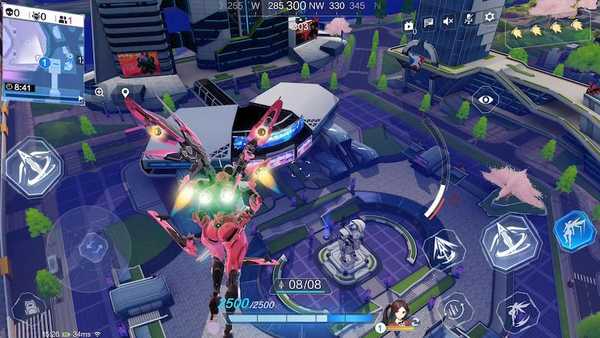 With Super mecha champions dive into the intense fight against Mecha. You start as a regular human character and earn the ability to pilot your own personal Mecha. Pilot Mecha through every corner and between the highrises of a contemporary ACG Japanese-style cityscape.
Super mecha champions also offer cool weapons including plasma cannons, missiles, flamethrowers, etc.
19. Royal Crown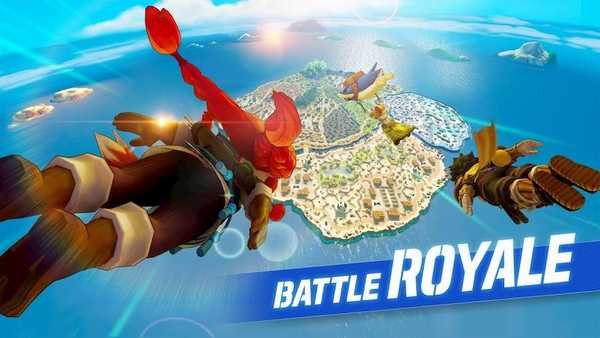 With Royal Crown dive into the fantasy of battle royale RPG. In Royal Crown, you start your journey in a land of fairy-tale fantasy with dazzling scape and exciting adventure.
Fight till the end to become the final survivor. The thing that separates it from other battle royale titles is that you and the players aren't the only ones. You can explore the world, find hidden items to increase your abilities and power, and hunt monsters to gain experience.
20. Survival Heroes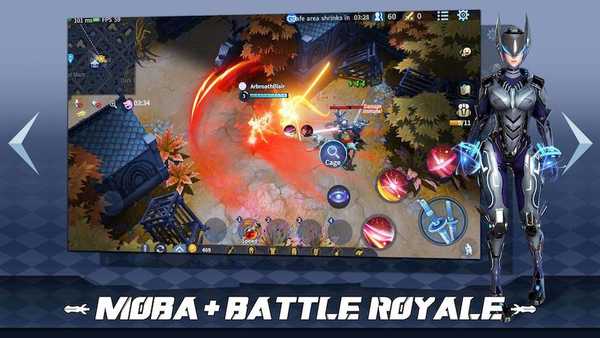 Survival Heroes is a combination of MOBA and Battle Royale. Like every other battle royale, every player starts the same with no weapons. You pick your weapons and have a fair fight with the other players and try to be the last man standing. Along the way, you gather loot and other weapons which helps you increase your chances of survival.
FAQs
Which is the best alternative for PUBG for Android?
Call of Duty Mobile, Fortnite, Free Fire are some of the best Pubg alternatives for android as well as iOS.
Is Call of Duty Mobile banned in India??
Call of duty is not banned in India unlke PUBG.
Is COD Mobile free to play?
Call of Duty Mobile is completely free to play and can be downloaded from google Play store.
Final Words
All of the games mentioned above are fun to play. Some games have their own twists and turns that make them extra fun to play. All of the games are free to play with in-app purchases.
So go ahead and try these popular battle royale alternatives to PUBG mobile, and share your thoughts in the comments section below.