15 Best Workout Apps For Fitness in 2021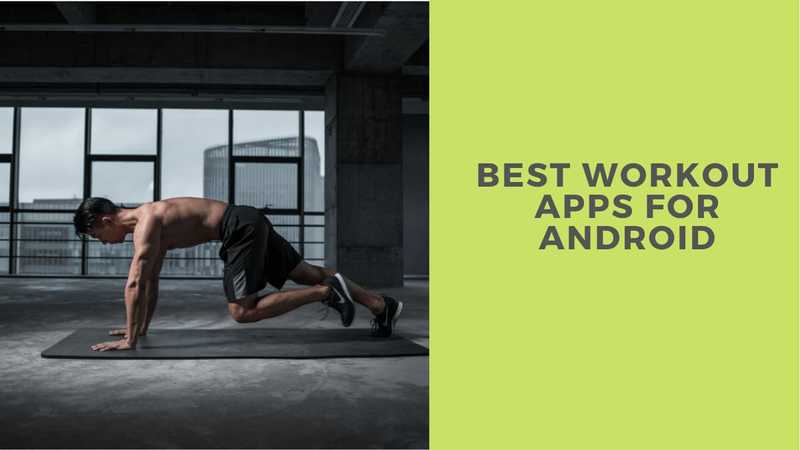 Looking for the best workout apps in 2021, then here is a curated list of best fitness apps that you can use for staying fit.
Staying active is one of the best ways to keep our bodies healthy. Regular physical activity can relieve stress, anxiety, depression, and anger. Exercise increases muscle strength and without it, your body slowly loses its strength and its ability to perform efficiently.
When it comes to exercise the most valuable piece of gear might be right in your back pocket. You don't need to go to the gym to stay fit, you can do it right from the comfort of your home. Home workout apps are here to help you get started for your journey towards a healthier lifestyle.
Many of these apps provide you with step-by-step instructions from real coaches as you progress. Some workouts will require some basic kit like dumbbells and resistance bands, whereas others don't require any type of equipment.
So, let's get started with the list of best workout apps that you can use right now.
1. Aaptiv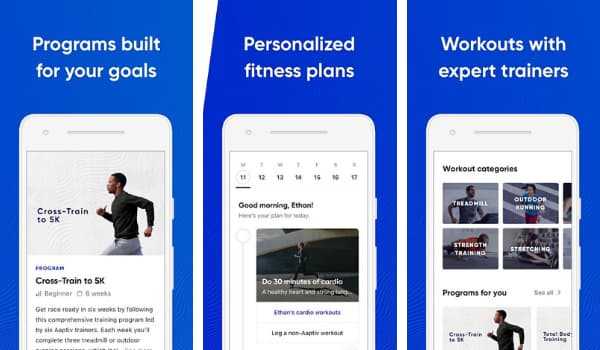 Aaptiv provides trainer-led audio workouts, which means you don't have to pop up your phone or tablet and peer at your screen mid-exercise. When you first log in, you will be prompted to set a goal. You'll also be asked what equipment you have access to so that it can recommend workouts you can do with the equipment you have. Users can select from more than 2,500 workouts in hundreds of fitness classes, with training routines streamed or downloaded to your phone for offline use.
All trainers featured in the app are helpful and encouraging. Aaptiv comes with in-app purchases. To use full Aaptiv features you need to pay a monthly fee of \$15.
2. Nike Training Club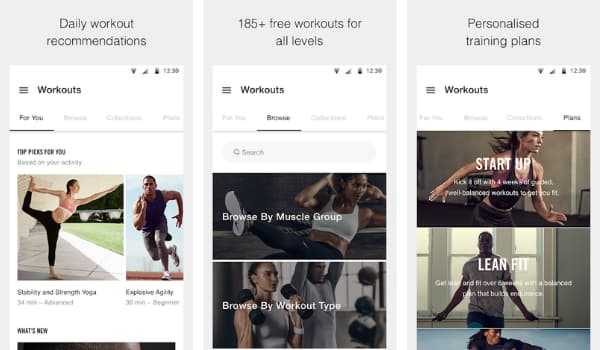 The Nike Training Club is also one of the most loved fitness apps. Nike Training Club App helps you reach your fitness goals with expertly designed workouts from our world-class Nike Master Trainers. Nike Training Club provides workouts for everyone at all fitness levels. It provides a personal plan that guides you while adjusting to your progress, schedule, and other activities.
With NTC, you get access to over 190 free workouts across strength, endurance, yoga, and mobility targeting your abs, arms, shoulders, glutes, and legs. Whether you have access to a full gym or are training from the comfort of your home, NTC has got you covered.
3. Fitbit Coach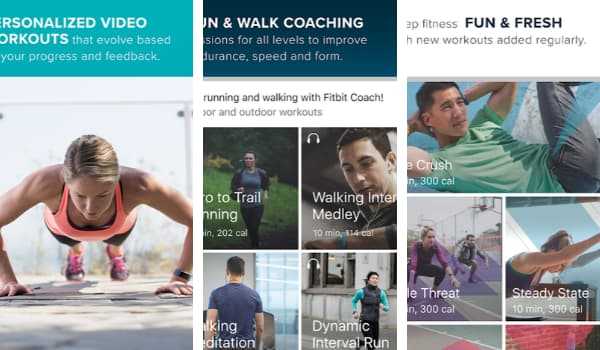 Fitbit Coach provides step-by-step programs to help you eat well, sleep better, and move more. Each program lasts for about a week and keeps you informed with check-ins and reminders. All the programs are designed by certified professionals and are tailored to your specific needs.
Fitbit coach also comes with features like advance insights which reveal deeper, personalized health insights and plus you get personal Wellness Report to share with your healthcare professional. In addition to that Fitbit coach also has some extra tools like sleep tools to track your sleep and also contains a library of sleep sounds and guided meditations for stress reduction and body positivity.
4. Daily Workouts Fitness Trainer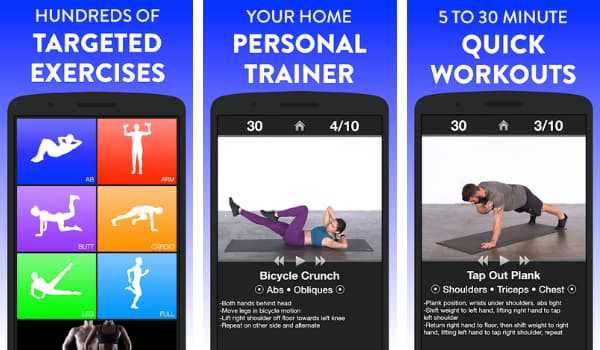 Daily Workouts Fitness Trainer contains a workout routine for men and women that steps you through some of the best exercises you can do in the comfort of your own home. These workout routines are created by certified fitness trainers and target all major muscles in your body.
Daily Workout Fitness Trainer contains 39 different 5 to 10 minutes targeted workouts, 10 to 30 minutes randomized full-body workouts. Simply select your routine and follow along.
5. All / Out Studio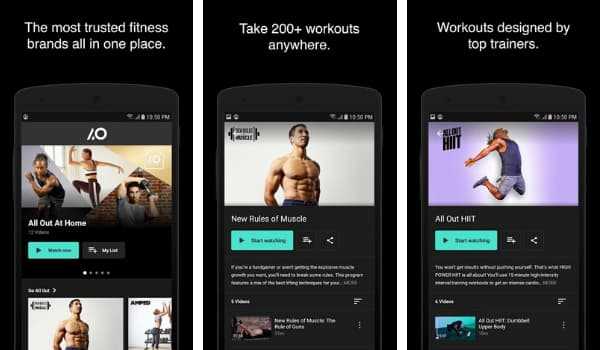 All Out Studio contains hundreds of on-demand workout classes with certified trainers with new programs added every month and dozens of fitness styles. All Out Studio has cutting-edge workouts, expert trainers, and the motivation you need to get fit and stay fit.
All Out Studio contains fitness styles ranging from Body-weight workouts to Yoga and meditation and even contains dance cardio. All these routines are created with the help of elite fitness trainers.
All Out Studio workout library includes 100+ workout classes, complete programs from WEIGHT LOSS, MUSCLE BUILDING, AND STRESS-RELIEF.
Even if that's not enough you will train with some big names in the fitness industry like Don Saladino (the man who has transformed countless actors into Hollywood superhero), Hannah Eden (who is known for her fiery, high-octane style), Natalie Jill (who designed a program just for you if you're 40+), Ebenezer Samuel (Men's Health fitness director and muscle genius) and dozens of others.
6. FitOn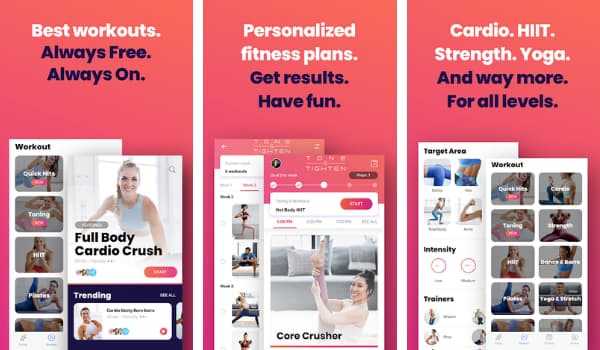 FitOn is one of the best free fitness apps. With FitOn you can lose weight and get fit anytime, anywhere with free home exercise videos and personalized fitness plans. FitOn offers a vast array of video exercise classes. From cardio to strength training to HIIT, yoga, Pilates, Barre, and much more.
Also, you will get to work out with top celebrity trainers like Cassey Ho (of Blogilates), Jeanette Jenkins, Katie Dunlop, Christine Bullock, Kenta Seki, Danielle Pascente, and many more.
FitOn is completely free and is available for both iOS and Android.
7. Lotus Yoga: Extensive Yoga App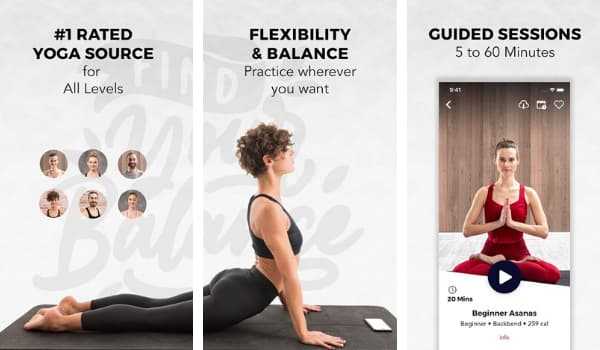 Lotus Yoga app brings the best yoga classes and programs to you. It contains hundreds of guided Yoga and Meditation classes and has over 500+ yoga poses. You can create your own Yoga classes or follow other yoga classes created by the Lotus Yoga community.
Lotus Yoga app is available for both Android and iOS.
8. Adidas Training by Runtastic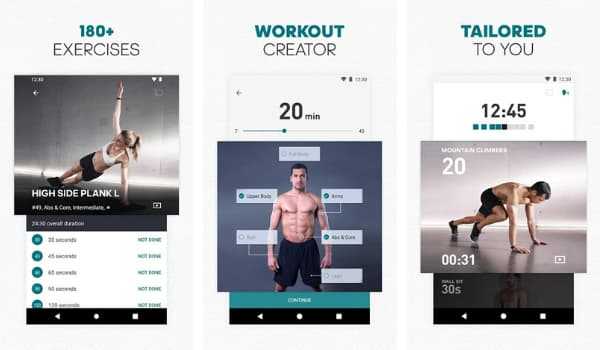 Adidas Training and Running by Runtastic offers a decent range of free features. With Adidas Training, you can boost your energy and fitness level with short, quick workouts. There are plenty of ready-made workouts to choose from.
It also has a Workout creator, providing fast, focused workouts you can do anytime, anywhere, and without equipment.
Whether you want to build muscles, lose weight, or just commit to getting fit, the various Training Plans in the Adidas Training app will give you the results you want.
All of them are personalized to help you reach your fitness goals. It contains 180+ HD bodyweight workout videos including detailed instructions and a demo by a fitness trainer for every exercise.
9. Freeletics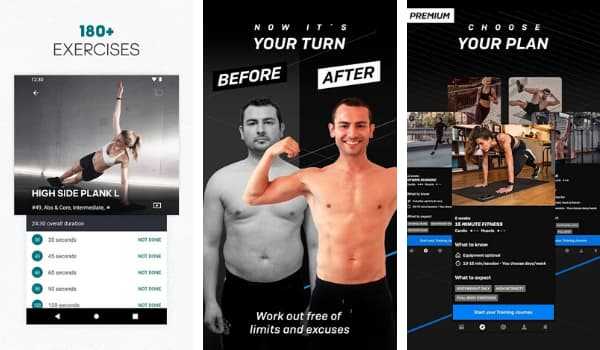 Freeletics has 140+ exercises and 900+ workout variations (which each takes only 10 to 30 minutes), all designed to use only your body weight as your exercise equipment. Whatever your fitness level, achieve your goals quickly and build healthy habits with personalized HIIT workouts and audio coaching.
The free version of the app contains 20 HIIT bodyweight workouts, 25 exercises, 20 audio sessions, workout spots. The app's AI coach pushes and learns from your feedback and tailors workouts just for you.
10. Daily Yoga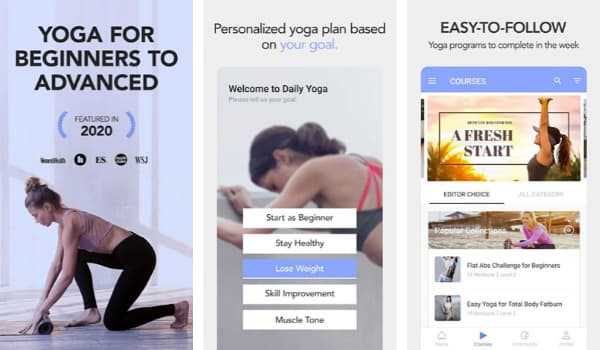 Daily Yoga App provides various guided classes with more than 100 yoga and meditation classes available. Daily Yoga offers 500+ asanas, 70+ yoga programs, 500+ guided yoga, pilates, meditation sessions plus the largest yoga pose library for man and woman that suit yogis from beginner to advanced.
Altogether 20 yoga masters who are globally respected or the initiator of yoga styles focus on yoga for weight loss, beginner to advanced, better sleep & full relaxation.
The community in Daily Yoga App brings yogis from all over the world to share their experiences and encourage each other to finish the challenge. Also, you can track your exercise duration and calories burned and heart rate with a smartwatch from within the app.
11. 8 Fit Workouts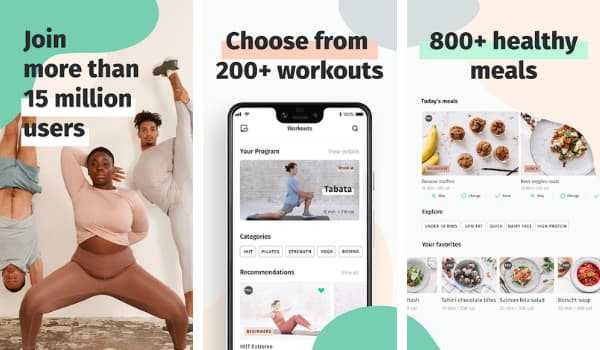 8 fit offers efficient workouts, customized meal plans, and self-care guidance to users. Whether your goal is to lose weight, get fit, or gain weight 8 fit has got you covered. With 8 fit workouts, you can work out anywhere, anytime with no equipment required. The HIIT (High-Intensity Interval Training) is one of the most popular workouts for 8 fit users.
8 fit workouts only take 5-20 minutes. 8 fit also provides guidance with your meal planning and along your fitness journey.
12. SWEAT: Kayla Itsines Fitness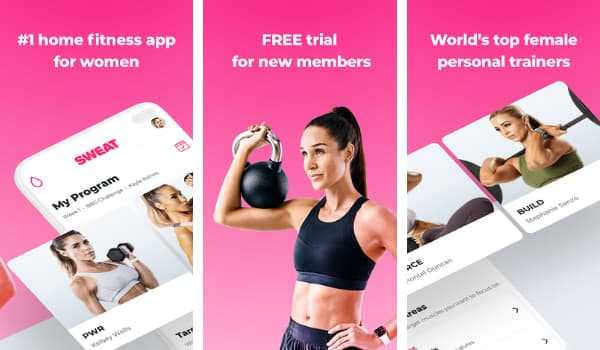 SWEAT, the personal training app featuring Kayla Itsines and elite female personal trainers. SWEAT hosts programs by world-class female personal trainers, including Kayla Itsines' BBG program is suitable for at-home workouts and includes high-intensity plyometric training using minimal equipment, Kayla's Post-Pregnancy program supports new mothers to rebuild their strength and fitness after having a baby and many more.
SWEAT features include Planner that makes it easy to schedule your workouts, Targeted workouts, and Gym based workouts including weight training programs. SWEAT contains over 300 pages of educational content covering fitness, nutrition, and wellbeing. and recipes for standard, vegetarian, pescetarian, lacto-vegetarian, ovo-vegetarian, and vegan preferences.
13. SHRED: Gym Workout & Tracker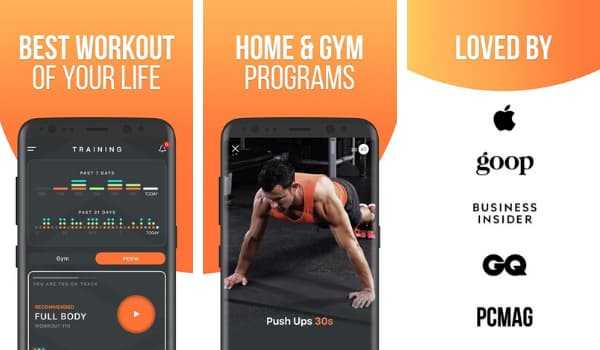 SHRED contains thousands of workouts covering a range of styles. It also contains personalized training programs for your home or gym along with step-by-step coaching & tracking. All the workouts are prepared by professional fitness trainers. SHRED has tons of training styles from Gym Training to Bodyweight Training and Cardio Training.
You can track your progress with interactive visuals. The more workouts you complete the more visuals will unlock to guide you along.
14. Keelo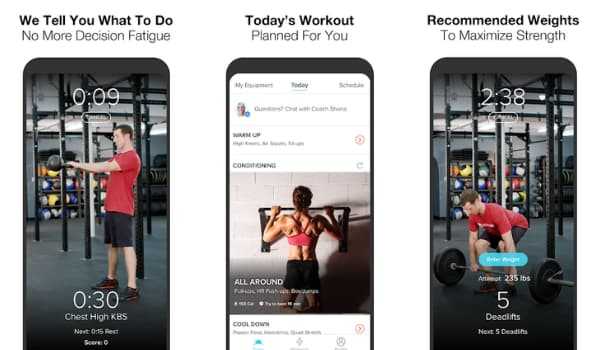 Keelo provides full-body workouts including strength, cardio, and conditioning into one program. Keelo uses AI-based algorithms to determine the best workouts for you. Whether you are at the gym or at home Keelo has got you covered. Keelo requires some gym types of equipment but if you don't have anything laying around then you can mail them and they will provide you with a list of alternatives that you can use at home.
15. Volt: Gym & Home Workout Plan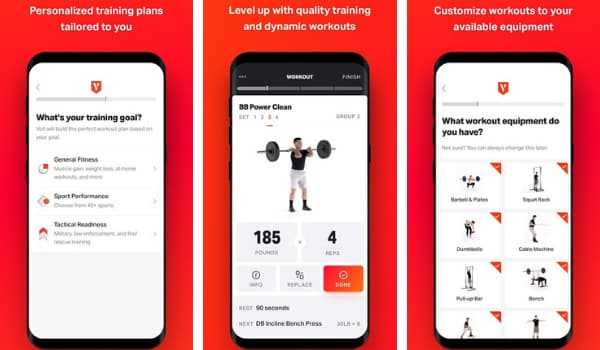 Volt is another popular fitness app. Unlike other fitness apps that randomly generate unconnected workouts, Volt takes a long-term, science-based approach to fitness. Volt uses AI to generate workout plans that evolve week to week.
You can also choose from 3 different training focuses including General Fitness, Sports Performance, and Tactical Readiness. Volt has a workout plan designed for more than 50 different sports and activities.
Final Words: Level up your Fitness with best workout Apps
These were some of the popular workout apps. So go ahead and start transforming your mind and body.
If you have any suggestions then feel free to drop them in the comment section below.