11 Best Android Apps to Block Spam Calls and Messages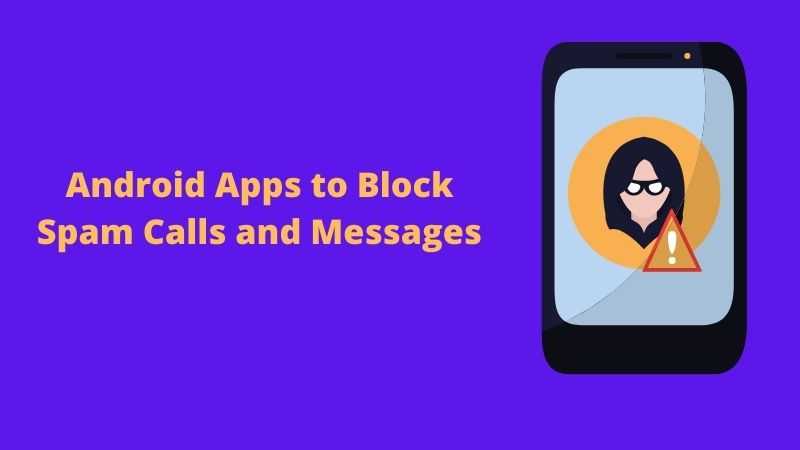 Looking for the Best Spam Call Blocker for Android, then here is a curated list of 11 Best Android Apps to Block Spam Calls and Messages.
Are you tired of constantly receiving spam calls, telemarketing calls, and robocalls? These calls can be annoying, disturbing, and time-consuming, but don't worry, in this article we are going to talk about some of the best android apps to block spam calls and messages.
Although the latest Android version provides built-in spam protection, still most users don't have the latest Android on their devices. Moreover, third-party spam protection apps provide you with more features than Android's built-in spam protection feature.
Some of these apps even have some spam SMS blocking features and also allow you to block someone's number. So let's get started with the best call blocking apps for Android.
1. Truecaller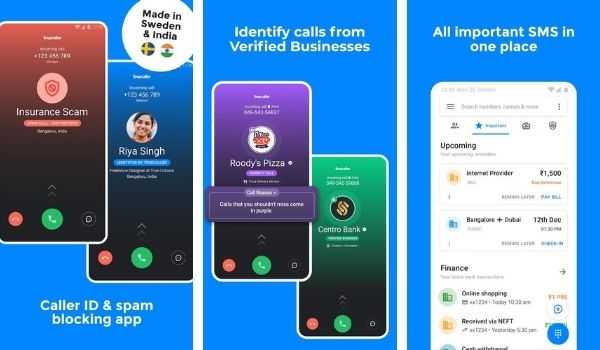 Truecaller is the most popular app to manage all your calls and messages quickly, by filtering out telemarketers, robocalls, and other unwanted disturbances. Truecaller has millions of active users worldwide.
Truecaller has a good-looking and easy-to-navigate UI. Truecaller identifies unknown calls and tells you whether that call is spam or not. Besides you can make Truecaller auto-reject calls from spam and unknown numbers.
Apart from spam call blocking, Truecaller also identifies spam messages and blocks them. You can also add numbers to the blacklist that you want to be blocked.
Download Truecaller
2. YouMail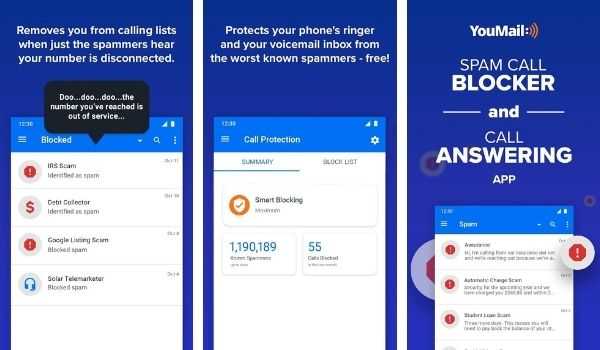 YouMail is another widely used application for blocking spam calls and messages. YouMail instantly blocks spam calls and messages. You can also report annoying numbers or add them to the blacklist so that you won't be bothered anymore.
YouMail also shows caller id for each incoming call. YouMail has all the features that you would expect from a spam call blocker app. But it has one other feature that makes it unique from other spam calls and messages blocking app.
YouMail also lets you set custom voicemail greetings for each number. Even more, you can also play an "Out of service" message to stop telemarketers from calling you back.
Download YouMail
3. Calls Blacklist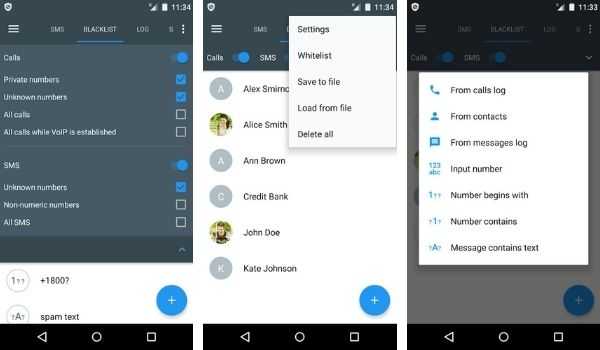 Calls Blacklist is both a call blocker and an SMS blocker. It can easily block calls and messages from unwanted, private (hidden, anonymous) or unknown numbers.
Calls Blacklist is easy to use, lightweight, and has a nice user interface. It allows you to create a blacklist where you can add numbers that you want to block. Calls Blacklist also you to save blacklisted numbers to the file so you can import them on another device.
The app also has a built-in SMS manager that lets you block spam messages and messages from specific senders.
Download Calls Blacklist
4. Hiya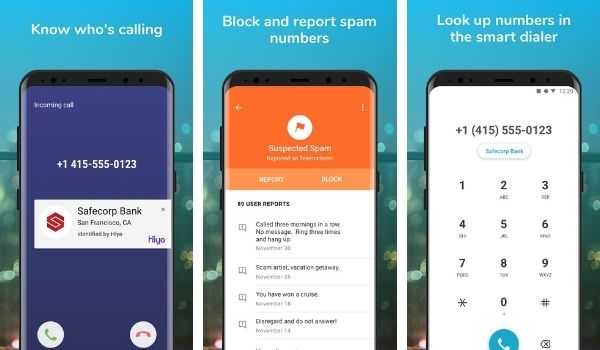 Hiya is another popular app to block spam calls and messages. Hiya has a modern-looking user interface and is easy to navigate. Just like other apps, Hiya provides protection from spam calls and messages.
Hiya also shows the caller id for the person calling you. It informs you about whether an incoming call or message is spam or not. Hiya is free to use and has no ads, unlike other apps which have tons of ads.
Download Hiya
5. Call Blocker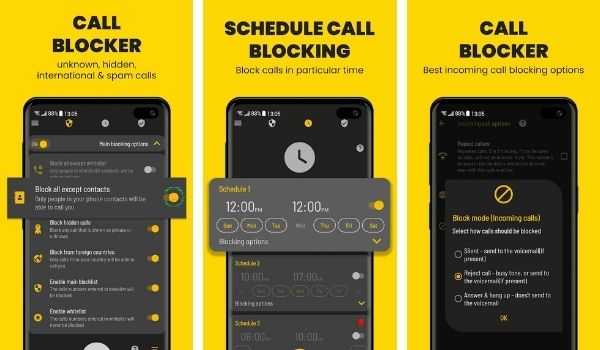 Call Blocker is a call spam blocker for android that blocks unwanted calls, call centers, spam, robocalls, telemarketing, private calls, hidden calls, anonymous calls, strangers, etc.
Call Blockers allow you to block private numbers and hidden numbers. Call blocker automatically rejects an incoming call if it detects that call to be a spam call.
However, Call Blocker has a feature that allows you to block outgoing calls. For the outgoing call blocking feature to work it will replace your current dialer with its own dialer. After that, you can specify a blacklist of numbers to which you want to block outgoing from your phone. Any call placed from your phone to the number in the blacklist will be blocked by Call Blocker.
Download Call Blocker
6. Mr. Number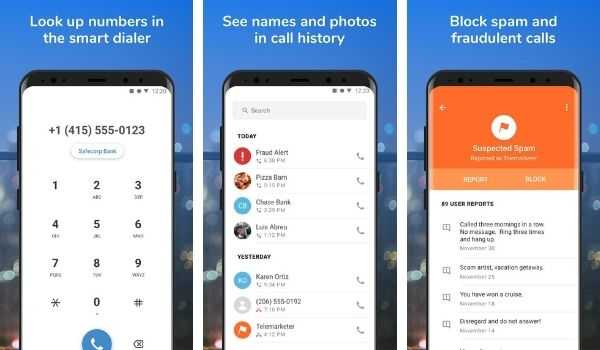 Mr. number is another powerful call blocker app for android. Mr. number allows you to block calls from people, businesses, and hidden numbers. Mr. number automatically blocks potential fraud and suspected spam calls.
Mr. number also allows you to block calls from one person, area code, or an entire country.
Download Mr. Number
7. Should I Answer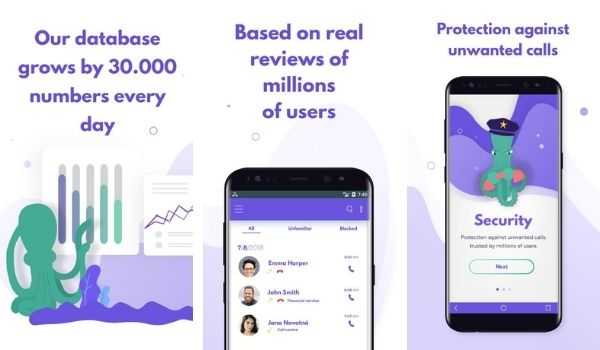 Should I Answer protects you effectively against unsolicited calls, spam calls, and telemarketing calls. Any incoming call that you receive Should I Answer checks that number in its database to determine whether the call you are receiving is spam or not.
It also allows you to block hidden and foreign numbers. The app can be used as a fully functional dialer app.
Download Should I Answer
8. Call Control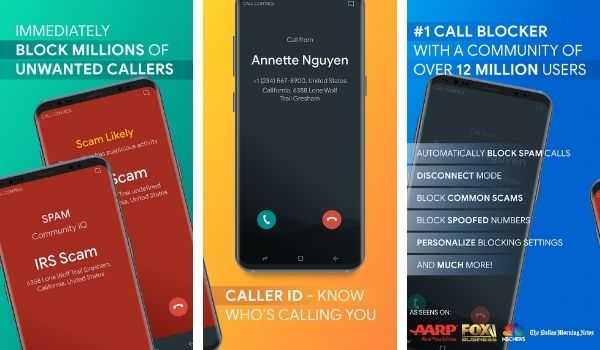 With over 12M users and 4.4 stars rating, Call control is one of the popular spam call and SMS blocker app for android. It is lightweight, easy to use, and has a modern UI.
Call control can identify spam calls within seconds and can also identify spam or fraud messages. It also has a caller id that shows you information about the number that is calling and also shows you whether that number is spam or not.
Just like other apps, it allows you to create a blacklist of numbers that you want to have blocked.
Download Call Control
9. Whoscall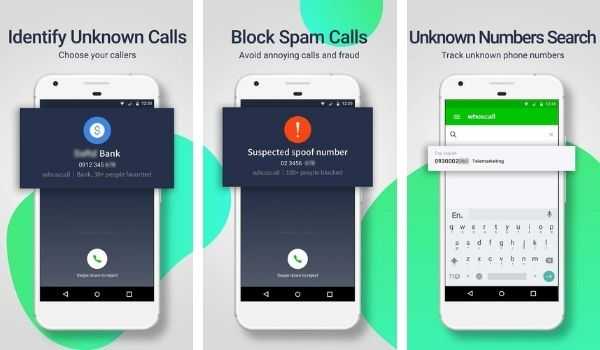 Whoscall provides a fully functional phone feature. Calls, SMS, Anti-Spam, all in one app to manage your calls & messages. Whoscall shows you the caller id of the person calling so you can be sure whether to pick up that call or not.
Whoscall identifies and blocks spam calls and spam messages. You can also get information about unknown numbers using Whoscall's built-in dialer.
Download WhosCall
10. Sync.ME
Identify Spammers and block robocalls with Sync.ME. Sync.ME quickly identifies and blocks spammers, telemarketers, robocalls, spam SMS, and messages.
Sync.Me also shows you the caller id while receiving an incoming call. Sync.Me also gives you the option to sync your contacts' photos with their social network profile picture.
Apart from all that, you can use Sync.Me to find and merge duplicate contacts and sync your contacts backup to your Google Drive.
Download Sync.ME
11. Showcaller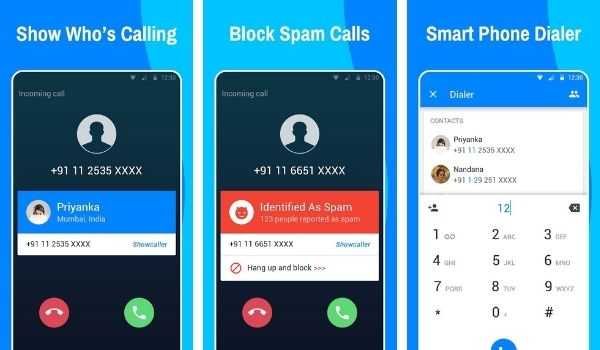 Showcaller automatically identifies incoming calls that are not in your contacts. Showcaller also shows you the caller id of the incoming call.
Showcaller automatic spam alerts warn you about incoming spam phone calls from fraud numbers. Showcaller also has a built-in phone dialer and call recorder.
Download Showcaller
FAQs
Does these apps only block spam calls?
In addition to Spam call blocking these apps also allow you to make blacklist of numbers that you want to block.
Does Spam call blocking apps require internet to work?
Yes, to identify whether a number is spam or not, these apps needs to lookup that number in their database which is stored on their server.
Why is the caller info of a number not showing?
First check whether your data connection is on. If it is on and still no caller info is shwoing, then it may be because there is no information about that number in their database.
Final Words: Best Spam Call Blocker for Android
These were some of the best spam calls blocker apps for android. So, go ahead and give the above applications a try and tell us which one do you like. Also, if there are some applications that need mention here feel free to drop your suggestions in the comment section below.
If you liked the article, consider following us on Twitter to get the latest tech news and updates.