Top 5 Trending Technologies You Must Learn in 2020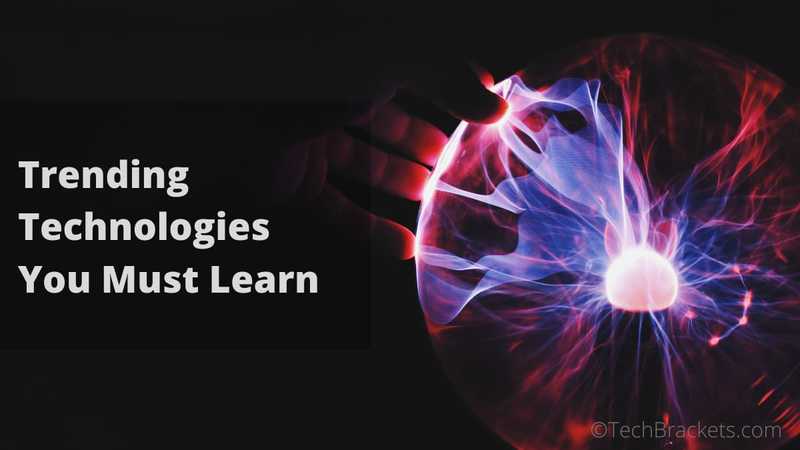 Want to know the top trending technologies in 2020 that you should learn, then let's dig right in.
Technology is evolving every second. What seems impossible before, is not impossible any more thanks to the astonishing advancements in science and technology.
Moreover, IT professionals need to cope up with the advancements in the technologies before anyone else. These advancements have a great impact on skills that one should have for a great job.
Moreover, nowadays we all look for a profession which can help you to buy your bread and butter easily.
And for that, you must choose a trending profession. Technology nowadays not only eases your life but offers you a chance to make good money as well.
So here is a list of top 5 trending technologies that you must learn in 2020. Lets get started.
Best Trending Technologies in 2020
1. Artificial intelligence (AI)
This technology is nowadays trending all over the globe.
It means making your gadget smart enough that it can take the decision itself without the help of the user.
It is something which humans and animals do, but now you can expect the same from machines as well.
We have trained machines that they can categorize our emails in different categories.
Now they can tell us about the shortest distance which we can take to save our time and energy.
These all calculations were earlier done by man, but now man has hired machines to do this for him.
2. Machine learning
The second technology is a little bit connected to AI. It is one of the top trending technologies for quite some time now.
To make machines capable of taking their own decisions, we need to train machines. We need to make the machines learn how to react in a particular situation and a specific environment.
That is learning by experience and this is called machine learning.
The machine uses a set of data and understands that what possible situations can arise and in what ways it can react to all those situations.
For example, if a person is hired for video surveillance so a person can stop crime before it happens.
But it's a tedious job to sit for the whole day.
But because of machine learning, we have trained the machine to do video surveillance by detecting any unusual behaviour, thus helping us to prevent crimes.
3. Internet of things
This technology is trending among netizens. In this technology, physical devices are connected to a network on the internet.
And through the internet, you can control your physical devices without actually interacting with the devices.
Isn't it sounds magical?
That you can control your device which is kept at your home while you are busy in your office.
Nowadays, many electrical appliances work on IoT, which can be controlled by your mobile phones connected to the internet.
So, If you are amused by it, you can learn it and make it your profession.
4. BlockChain
Nowadays, the biggest problem that everyone faces is how to handle an extensive collection of data by ensuring data security and reliability.
A Blockchain is a group of records that are kept together using cryptography.
Cryptography ensures that data is not changed by the third party and provides data security by using algorithms.
The Blockchain is very popular in banking where you have to keep a record of all transactions made and on what time.
It also ensures if an only verified person is doing the transaction and the data is updated after every transaction. It is one of the top trending technologies in 2020.
5. Cloud Computing
Firstly don't think if you will need to reach clouds to understand this technology.
Cloud is used as a metaphor for the internet.
Cloud computing means accessing and using data that is saved on the network instead of the machine's hard drive.
For this, you need that your machine is connected to the internet.
So by this, you can access your data at any remote situation without carrying your hard drive with you.
For example, you can access your emails from any device by logging in your email account to that device.
Read:  Best Visual Studio Code Extensions for Web Development
Final Words: Learn Top Trending Technologies in 2020 
So these were some trending technologies of 2020 and that will dominate 2020. And if you want you can select one or two of these exciting technologies to learn and to get more opportunities.
And I hope that by now you have made your mind that which technology you will learn to make your career in it. Please do let us know in the comment section.