15 Best Android Launchers of 2021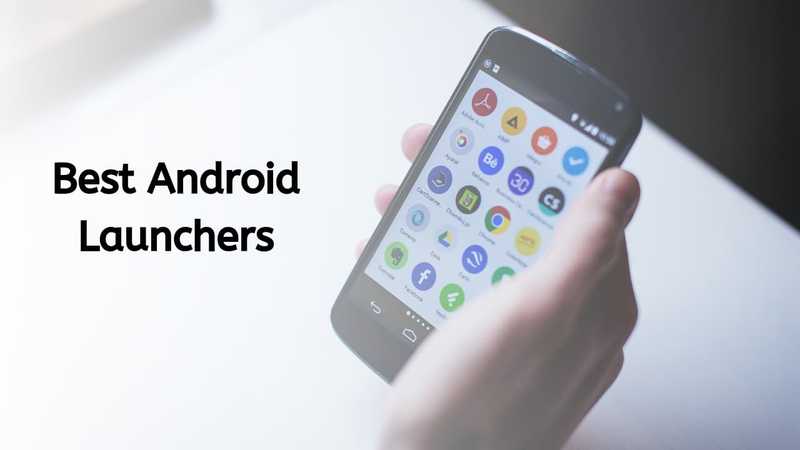 Looking for best android launcher in 2021, then here is a curated list to help you choose the perfect launcher for android.
One of the main reason why android has dominated the market is the level of customization if offers. Android launchers are the easiest way of customizing your android device.
Now every Android device comes with a pre-installed launcher. But nothing is stopping you from installing the android launcher you like.
Just select and download an android launcher, and there you have it completely new look, unique design and a fresh feel plus with tons of launcher exclusive features and customizations.
There are tons of android launcher available on the play store, but we have curated a list of best android launcher for you, so let's get started!
1. Nova Launcher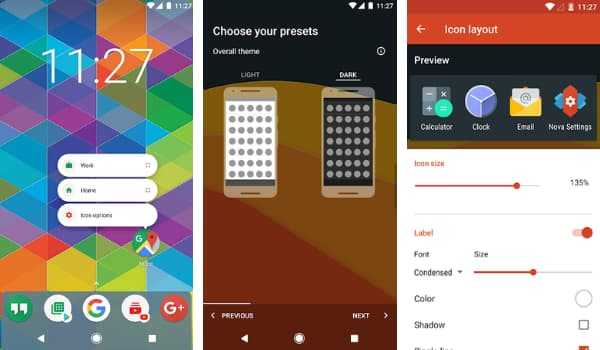 Nova launcher is one of the best android launcher currently available on the Google play store.
It a powerful, versatile and has been in the market for very long. Nova launcher is fast, lightweight and highly customizable.
Though it also offers a premium version, its free version is rock solid. If you are looking for a clean and faster launcher, Nova launcher should be your choice.
It supports thousands of custom icon themes available on the play store.
Nova supports dark mode. Its sub-grid positioning feature is one of the most loved ones and separates it from other android launchers.
Moreover, its app drawer is highly customizable with vertical and horizontal scroll effects as well as a card or immersive options. It also has a backup and restores option. I am using Nova launcher for quite some time now, and I love it.
It supports Night mode which activates at the specific time.  Nova launcher also has a premium/paid version known as Nova Prime, which costs around USD 4.99. It's worth the upgrade.
It's premium version offers gestures, ability to hide apps, custom icon swipe gestures etc.
2. Evie Launcher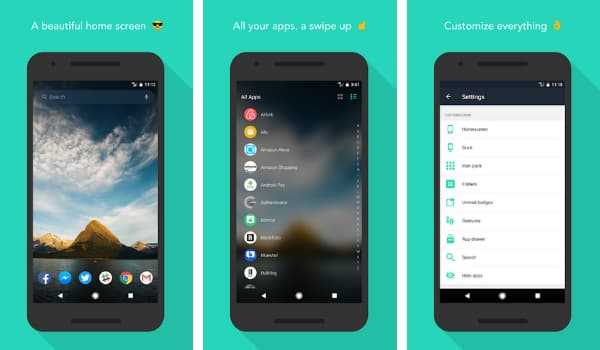 Evie launcher is one of the fastest launchers for android in this list. It is known for its simplicity and lightning-fast performance.
Evie Launcher is designed for performance according to its developer. And I can assure you that is true from my experience with this awesome android launcher.
It offers some useful features like hiding apps, app drawer and folder grid customizations. Like Nova launcher, it also supports custom theme icons.
Its universal search feature lets you search within your apps from one place. Evie Launcher supports Android O style notifications.
All in all, it is simple yet powerful android launcher and my favourite android launcher alongside Nova Launcher.
3. Microsoft Launcher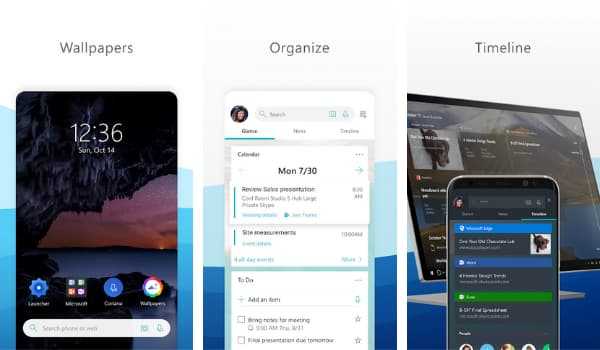 Microsoft launcher (formerly Arrow Launcher) is third in our list. Yes, you heard it right, Microsoft launcher is that good. Microsoft has nailed it with a clean interface and moreover with excellent integration with Windows.
You can link your phone with your Windows PC which allows document syncing between your Android phone and Windows PC.
It is clean yet customizable. Its position among the top android launchers is only increasing.
Microsoft Launcher has seen some tremendous rise and popularity among the users. Bing wallpapers regularly switch your background from Bing image archives.
Its free while offering features like gestures customization that other android launchers offer only in their premium version.
4. Action Launcher Pixel Edition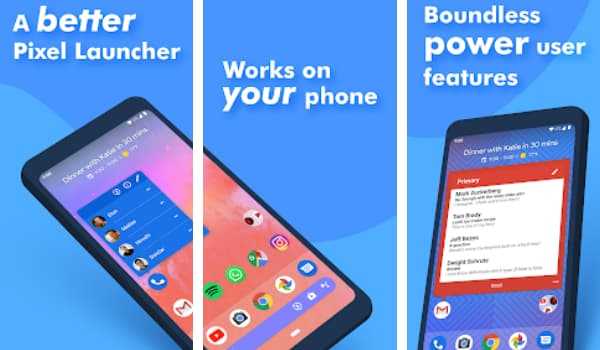 Action Launcher has been around for a while now. It combines all the features of pixel launcher with lots of customization, colour and much more.
It does have a premium version that unlocks some extra cool features. Action Launcher is a top free android launcher for gesture customizations.
Shutters is one of the best features that Action Launcher offers, with this feature, you can preview your inbox or Facebook feed without opening the app.
Other features include fully customizable dock search box, adaptive icon support, full notification dot support, custom icon support and more.
Action launcher's features like QuickTheme, quick bar and quick edit set it apart from other launchers for android. QuickTheme allows you to colour coordinate your home screen according to the wallpaper.
QuickBar lets you attach shortcuts while quick edit presents icon suggestions instantly without manually going through different icon packs.
5. Lawnchair Launcher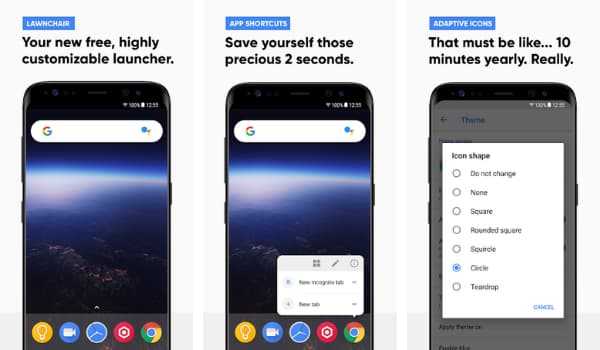 Lawnchair Launcher is an open-source project aiming to bring pixel features to the masses. Since it is open-source, it is the best free launcher for android and doesn't have ads either.
Lawnchair launcher is one of the best android launchers and is gaining more and more popularity.
Since it is open-source, it is highly trusted, and more and more features are begin added regularly.
All the features that other android launchers charge for, Lawnchair offers them free. Its features include Google now integration, android Oreo style shortcuts and notification dots.
Like other launchers, it also supports custom icons. Moreover, it supports dock customization, adaptive icons, blur UI options and much more.
Lawnchair is fast, stable and an excellent choice for open-source lovers.
6. Niagara Launcher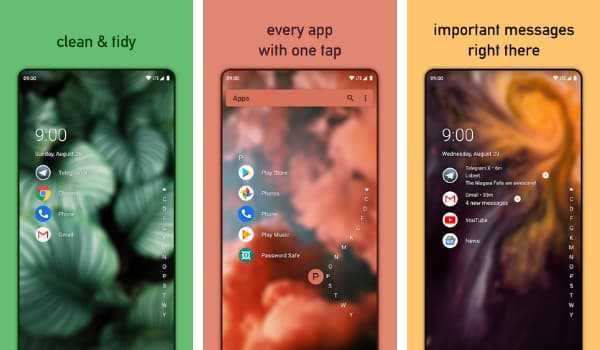 Though Niagara Launcher is currently in development and downloaded over millions of times.
If you are looking for the android launcher that offers clean and minimalist UI, then this android launcher is for you.
It is one of the fastest android launchers on the google play store. Niagara launcher is just clean, perfect and beautiful android launcher.
It doesn't have lots of customization options, but it doesn't have ads and bloatware either. Moreover, this launcher is free and offer hidden apps features.
Niagara Launcher is super lightweight and works perfectly on lower-end Android devices also.
You should give this simple, stunning and minimalist android launcher at least a try. It's worth it.
7. POCO Launcher 2.0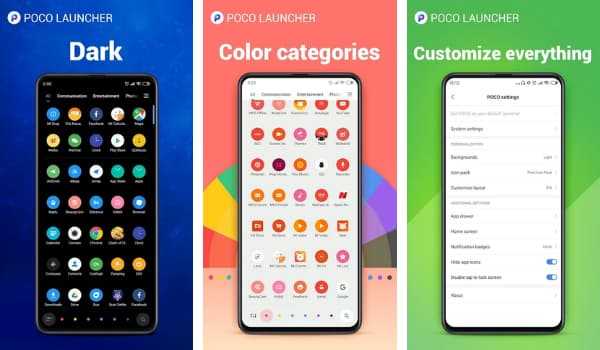 POCO Launcher was introduced alongside Poco F1 last year. And since then It has been steadily gaining popularity among the users. But the introduction on Poco launcher 2.0 fueled its popularity.
The second version is more stable, more powerful and offers more features than the earlier version of Poco launcher.
It has an average rating of 4.7, which is enough to guess the popularity of this android launcher.
Poco launcher has a minimalist design and follows the material design. It supports custom icons, offers a lot of animations.
All in all Poco launcher 2.0 is fast, stable and highly customizable.
It is one of those android launchers that is fully compatible with android Q. Moreover it has a dark mode.
Not only this you can also change notification badge style (dots or count) and have double-tap screen lock option.
You like me might not be a fan of MIUI, but you are surely going to love Poco launcher 2.0.
8. Smart Launcher 5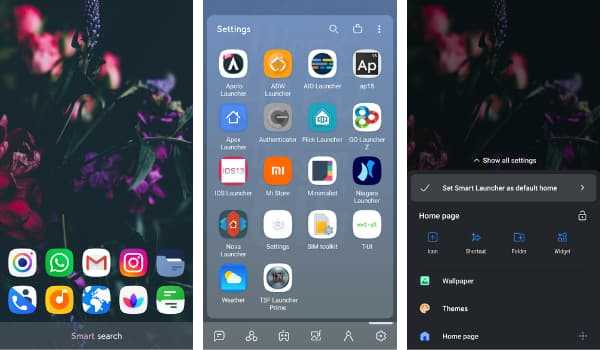 Smart Launcher 5 is next on our list. It has the best layout and app drawer compared to other launchers. With icon pack studio, you have an insane number of icon options.
It automatically sorts your apps into several categories inside the app drawer. One of the best feature that Smart Launcher 5 is its gestures.
Its double-tap shortcut for dock apps works way better than swipe gesture offered by other android launchers.
Smart Launcher 5 has an ambient display, and it automatically changes the theme colours to match the wallpaper. It also supports adaptive icons, automatic app sorting, smart search and much more.
It is highly customizable with tons of themes and icon packs available for download.
But one thing I don't like about its free version is ads in the app drawer. For removing ads, yes you guessed it right, you have to buy a premium version.
9. Google Now Launcher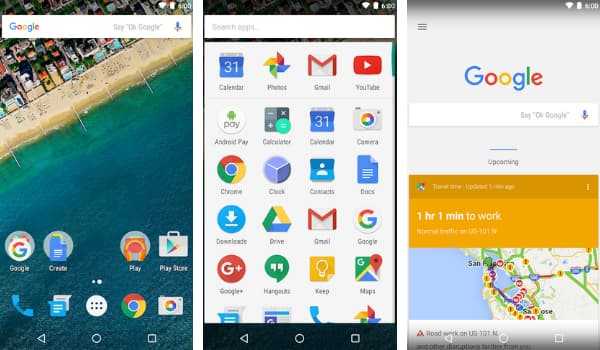 A no-nonsense launcher amazingly fast launcher which works excellent on low-end devices also. Google offers Google Now launcher.
If you are looking for pure stock android experience, then Google Now launchers perfect for you.
The launcher is developed explicitly for non-pixel devices, which comes with custom pre-installed launchers.
Google Now Launcher offers a smooth app drawer, and their app suggestion also works quite efficiently.
Though it doesn't come with a whole lot of customization option, this android launcher is simple yet efficient, fast and powerful. All in all one of the best pixel launcher for android
10. AIO Launcher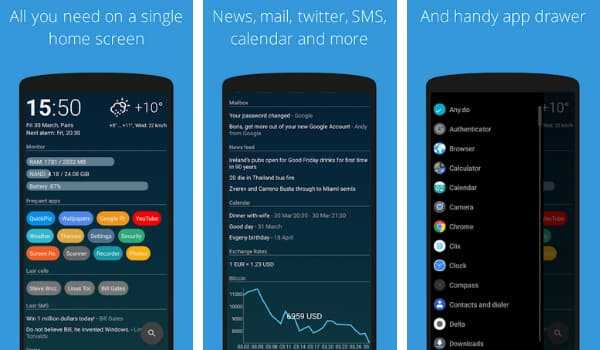 One of the most exciting android launcher on this list. AIO Launcher is not just like any other launcher, AIO launcher turns your home screen into a vertical feed of widgets.
It shows things like your latest SMS, emails, twitter feed, missed calls, your media player, your system info (RAM, battery, storage, etc.), and more cool stuff like news, exchange rates, bitcoin price and more on the home screen
Unlike other android launchers, It doesn't have colourful icons or animation effects.
Instead, it uses the screen to display you the most crucial information related to the device and events and communication apps. All these on a single home screen.
AIO Launcher also has a premium version which costs around USD 1.99. It also has a universal search button which comes very handy.
AIO Launcher is very convenient and supports several different themes, icons, multiple icon shapes, gestures and much more.
You have to give this launcher a try for sure.
11. Rootless Launcher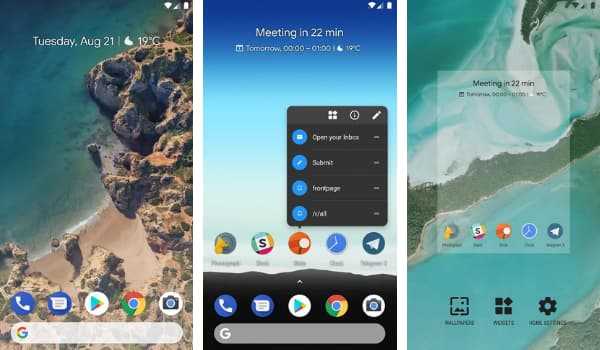 Another free and open source launcher is the Rootless launcher. The simple, clean, smooth and fast android launcher is almost perfect for any android device either a new or old.
Since it is an open-source project, many new features are regularly added free of cost.
Pixel launcher and the nova launcher inspires the rootless launcher. So, if you are looking for android pie launcher features on your device then give Rootless launcher a try.
One important thing is that it doesn't have many customization options, but it is popular among the users for the performance it offers.
12. Linux CLI Launcher
Pure Perfection. In the world of the colourful launcher, Linux CLI launcher is a breath of free air. It doesn't have any icons, app drawer and dock.
It has Linux terminal-like interface, and all you need is to type a simple command. Don't worry you don't have to be Linux expert, the commands are straight forward and the launcher also offers suggestions.
For example, if you want to open WhatsApp, you need to type whatsapp. That's it. Also, for getting help type help.
Linux CLI launcher is super lightweight and doesn't use a whole lot of resources. It works perfectly on any android phone.
Linux CLI launcher for android supports Native Android and Linux, aliases, RSS reader and much more. It also has a CLI music player and online theme repository.
You can also reply to notifications straight from the launcher. Linux CLI launcher is a highly customizable Android launcher.
Linux users and programmers will love this Linux CLI launcher. But anyone who tries this launcher will love this. Follow this link for more info.
I strongly suggest you give this launcher at least a try.
13. ADW Launcher 2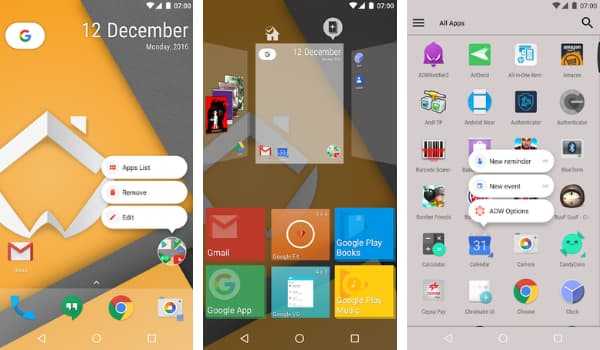 ADW Launcher 2 is simple and yet one of the most customizable launchers for android in this list. Its UI feels almost like the stock android.
According to its developer, you can customize this launcher to your likeness is approximately 3720 to 1.
It has a lot of features like launcher shortcuts, extensions, transitions and much more. Additionally, the launcher offers to create your widget feature, which is cool. You can also share templates.
You can do a lot of customization with ADW Launcher 2, which no other launcher offers. But I find this level of options overwhelming.
But if you want to customize every bit of launcher according to your liking then surely this one is worth a try.
14. ASAP Launcher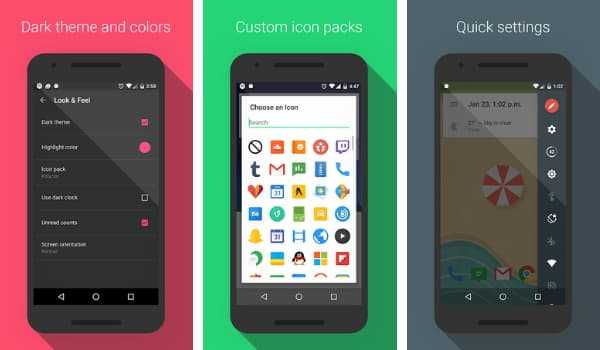 ASAP launcher is considered to be the best android launcher for productivity.
While other launchers for android focuses on offering customization, ASAP launcher heavily focuses on usability and productivity.
ASAP Launcher is a fast, beautiful and straightforward launcher with de-clutter your home screen and provides much cleaner experience.
ASAP has Cards for home (clock, quick weather, search and music player), contacts, weather, calendar and to-do.
It is based on material design and offers minimal design with customizable colours. ASAP launcher also supports gestures and offers different themes, including a dark theme.
15. Apex Launcher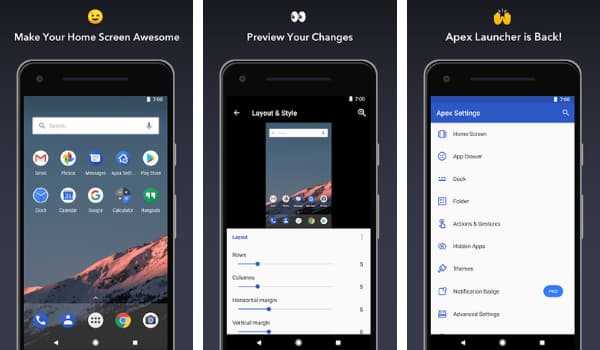 Another android launcher which aims to give a stock android look. Ads in the free version are limited.
Apex launcher is reasonably fast and also offers Applock like other top android launchers in the list. It has its Theme and icon pack library.
You can choose between horizontal and vertical app drawer. Though it offers transition effects, most are them require premium version.
Premium version also unlocks more gesture option, offers, no-ads experience and more more.
Other Android Launchers That Doesn't Make It To Top 15
Honestly, there are many more android launchers available.
But here are some of the few launchers that could have made to the top 15.
In fact, you may have seen many recommending these, but I have tried and tested every launcher and decided against it.
Here are few with the reason:
U Launcher 3D: Full-screen gestures doesn't work well with this launcher.
APUS Launcher:  Full of annoying ads.
CM Launcher: Great but Excessive ads kill it for me.
TSF Shell 3D: Many icons doesn't appear. Instead, a grey Android icon takes apps icon place, which doesn't look cool.
Apollo Launcher: laggy, installs additional apps like Apolo browser, Apolo store.
GO Launcher EX: A lot of customization, animations etc. but a whole lot of stuff makes it clunky, slow.
Buzz Launcher: Would have been in my top 10 but unfortunately it is discontinued. So there is no reason to add a launcher which will not be updated anymore.
FAQs
Are Android Launchers Safe To Use?
Most Android launchers are safe to use. But make sure to download them for the official website or Google Play Store. Downloading android launchers from third party sites is not recommended.
Do Android launchers Affect Battery Life?
Every application that is running on your device consumes battery. And yes Android launcher can affect your battery life. A poorly coded launcher can drain your battery faster than an optimized Android launcher.
Are Android Launchers Worth Using?
Every android smartphone comes with a pre-installed launcher that is sufficient for most of the users. It provides all the necessary features. But what is lacks is customizations and that's where custom launchers are quite useful.
Do launchers Slow Down Your Android Device?
A poorly coded launcher or launcher containing malicious code can slow down your Android device. And this is true for almost every application that you run on your Android device. Most of the popular android launchers like Nova launcher will not slow down your Android device.
Final Words: Customize With Best Launchers For Android
There you have it: 15 of the best android launchers to revamp, customize and add something fresh to your Android smartphone.
If you want iOS like UI on your Android device, then you can go through this list of best iPhone launchers for.
Now I'd like to turn it over to you:
Which android launcher on this list is your personal favourite?
Are there any awesome android launchers here that I missed?
Either way, let me know by leaving a comment below right now.