10 Best Private Search Engines in 2021 | Google Alternatives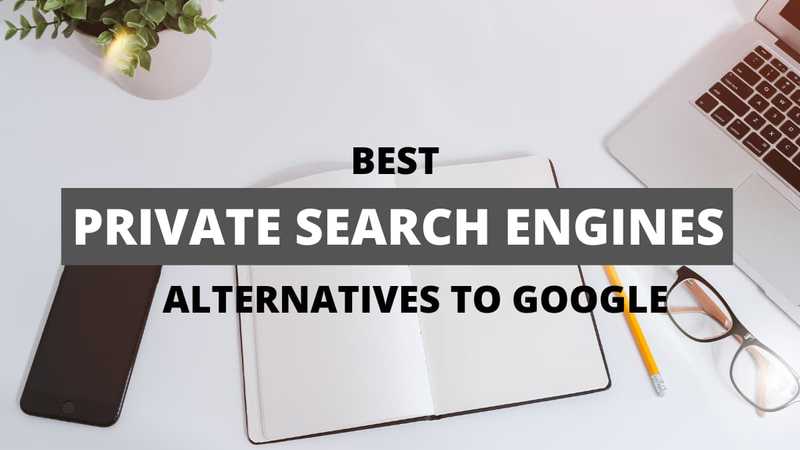 Looking for best private search engines, then here is a curated list of best privacy-oriented alternative search engines to Google that doesn't track you.
Private search engines are getting more and more popular over the past few years, but still, Google dominates the search engine market, with over 90% of the search engine market share.
No doubt, Google is one of the best search engines that provides excellent results and uses artificial intelligence for improving the search experience of the user.
But it all comes with a cost, a considerable cost, i.e., your privacy.
The major drawback of using popular search engines like Google, Bing, and Yahoo are that they try to collect as much information about the users.
Every major search engine like Google logs everything we do on the internet like IP addresses, search terms, websites we visit, and much more.
So before moving on to which search engines that do not track you, first of all, we should know why do even popular search engines also track you and why you need private search engines.
Why Search Engines Track You?
The reason can be more, but the main reason is the targeted advertisements. They care little about our privacy, and with the increasing cases of data breaches.
They use the information specifically for increasing revenue and map our behavior to show us targeted ads.
The bottom line is search engines keep tracking you while you are using them.
You might have noticed that when you search something on Google, then you will see all the ads related to that search term on all the websites you visit.
Why You Need A Private Search Engine? 
With keeping our privacy in mind, its time to switch to an alternative, more specifically, a privacy-oriented search engine alternative to Google.
And this is one of the reasons why private search engines, though slowly but are gaining more and more popularity.
Private search engines let you search online without being tracked. But keep in mind once you click a search result, they won't protect you anymore.
To stop being tracked on the websites, you have to extensions like uBlock origin for blocking ads and tracking scripts.
Your ISP also logs your usage and tracks your online activity. So, to protect your privacy, you need to use a VPN.
They hide your IP and location so you can hide your identity. There are many options paid as well as free VPNs. But ExpressVPN is what I would recommend.
So, to protect online privacy here is a curated list of best privacy oriented alternative search engines to Google.
1. DuckDuckGo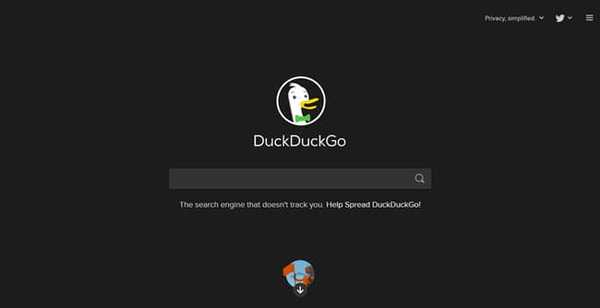 DuckDuckGo is one of the most popular private search engines. It is a go-to alternative for most of the people that tend to protect their privacy.
DuckDuckGo is extremely fast. Being a private search engine that doesn't track it, DuckDuckGo is not as powerful as Google but if you want privacy then you need to trade off something.
And Unlike Google, DuckDuckGo doesn't offer a personalized experience when you search for something like location-based results as it doesn't track or logs you.
One more thing DuckDuckGo does far better than Google is their advertisements, and they use sponsored links based on the query that you search, unlike Google, which shows ads based on your interests.
Search engines like Google and Bing track you even when you are using browser mode. But DuckDuckGo doesn't track you in or out of the private mode.
It uses Yahoo to provide search results. DuckDuckGo is also available for android and iOS smartphones as a browser. It offers all in one solution for smartphones.
One exciting feature that DuckDuckGo has is bangs. Bangs are shortcuts that allow you to search other sites directly. Learn more about bangs and how to use them here.
As far as the desktop is concerned, it offers a browser extension that takes care of all of your privacy concerns.
One feature that makes it worth using is that it grades websites based on the privacy practice, which allows staying away from malicious sites.
The bottom line is DuckDuckGo is not only a great alternative to google but also offers a wide range of products to enhance your privacy further.
2. StartPage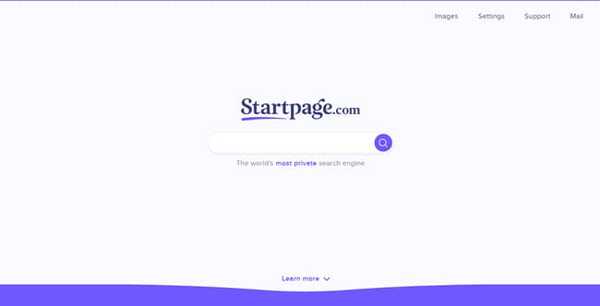 Formally known as ixquick search engine, StartPage is privacy-oriented search engines that don't track you or collect your data.
Their tagline, "It's your data, not Big data," perfectly sums up their intention of protecting your data.
StartPage has a clean and minimalist UI. What StartPage does better than other private search engines is that they protect your privacy beyond the search results by offering a feature known as "Anonymous View".
With the anonymous view, it protects you on external websites also. When you search for anything, then in the search result you can see with every search result "Anonymous View" link will be displayed.
So, when you click on that link, then you will be able to visit that website without worrying about being tracked.
StartPage uses results from Google and offers a complete separate mail service as well.
So, if you prefer Google results without being tracked, StartPage is surely perfect for you.
3. searX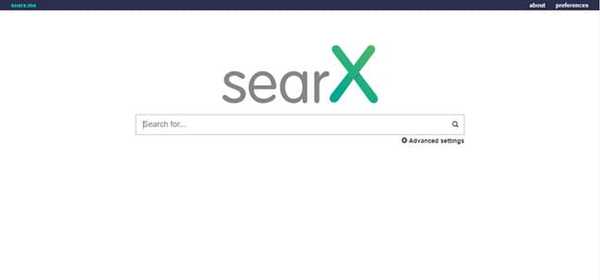 searX is one of the best private search engine that is entirely open source. It is meta-search engines that aggregate the search results from other search engines without tracking you.
As valid for other private search engines, it doesn't offer personalized results as Google because they don't track or store information about you.
It is highly customizable and offers a lot of tweaks that will help you to enhance your search experience significantly.
Like HTTPS, rewrite lets you rewrite HTTP links to HTTPS if possible., removing the tracker from the URL and much more.
Moreover, you can also choose from which search engines the results must be aggregated.
You can even run searX on your server. All in all, it is an excellent privacy-orien ted google alternative.
4. Swisscows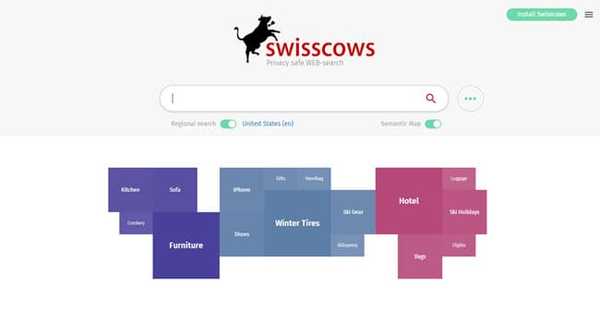 The users highly trust Swisscows. According to Swisscows, it is in their DNA to protect every user. And what they offer genuinely justified their statement.
They don't collect your data or even track you and thus protecting your privacy.
It uses Bing for providing search results. Swisscows utilizes semantic technology, and it uses artificial intelligence to improve search results without saving your data.
They have their servers and have a data center in this Swiss alps. And they positioned everything geographically outside of the EU and the US.
Swisscows is undoubtedly an excellent search engine for privacy.
5. Disconnect Search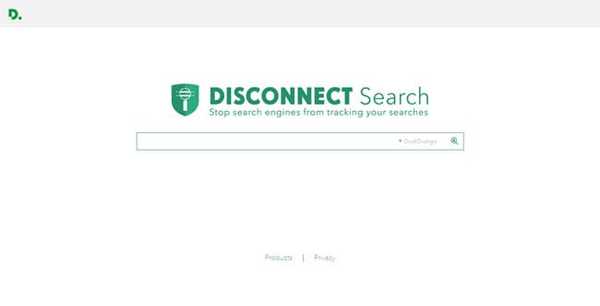 Disconnect Search is one of the best private search engines. It anonymizes your searches.
Disconnect Search acts like a VPN that lets you search privately using your favorite search engines like Bing, Yahoo, or even DuckDuckGo.
It doesn't log searches, store IP addresses, or any other personal information.
The best thing is that they don't even let the website you visit from the search result even to know what was your search term.
Moreover, it even prevents ISPs from accessing your searches. Disconnect Search lets you enjoy search experience of other big search engines but without getting you tracked or logged.
The bottom line is that it is more than just a private search engine.
It truly lets you go anonymous like a VPN, at least when it comes to search engines.
It is undoubtedly one of the best privacy-oriented search engine and a great altern ative to the Google search engine.
6. Qwant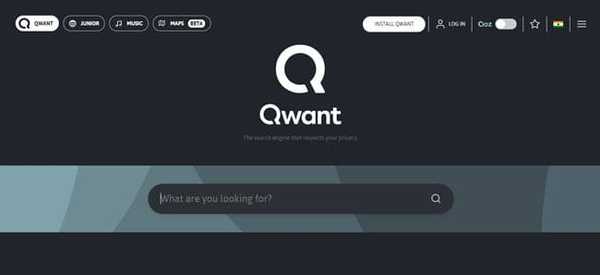 Qwant is another great option and alternative to Google. It claimed to be the only European search engine that doesn't track you and doesn't store your search history.
The results of this private search engine are unbiased.
The sorting algorithm that Qwant is applied equally for every search result. It offers an excellent user experience and shows you trending topics and stories.
Based in France, Qwant delivers all the results on a single web page.
Qwant comes in 26 interface languages. They don't show any targeted ads and has an option that you can turn on for donation. And if you do, it will tell you if there are any targeted ads.
Moreover, it has built-in dark mode and offers other services like maps, music, etc. It is available for both android as well as iOS.
And has a dedicated search-engine for children known as Qwant Junior.
7. MetaGer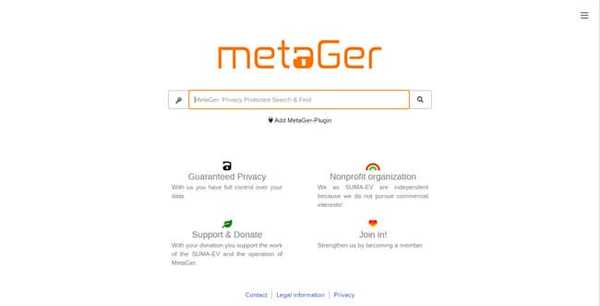 MetaGer is a clean and straightforward looking private search engine that does what is supposed to do. MetaGer is an open-source project by Nonprofit organization SUMA-EV.
One of the best things about Metager is that it uses anonymous proxy and hidden Tor branches, which allows you to get anonymous access to the search results.
MetaGer is a meta-search engine and queries up to 50 search engines to get to the best results. Like others, it doesn't store your information.
Moreover, it doesn't allow search results domination by certain publishers like Google. It doesn't use the click-through rates for ranking search results.
The bottom line is that it is an unbiased search engine.
MetaGer is highly trusted and has been providing private search experience for over 20 years. It also has map service without tracking your location.
And as for as ads are concerned, they use sponsored links rather than targeted ads, which is, of course, a key for privacy.
MetaGer and MetaGer Maps are available for android smartphones.
8. Peekier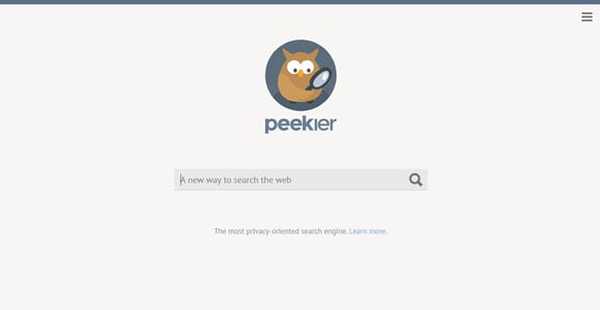 Peekier considers itself to be the most privacy-oriented search engine. It doesn't collect any information, nor it tracks you during the browsing sessions.
One great feature is that it allows you to preview websites on the search results itself. It displays the website preview of every search result.
Firstly websites load on Peekier servers, and then they send the rendered image to your browser.
They deal with malware and other threats while protecting your privacy.
It provides safe and secure experience while you stay on Peekier search results. Then you can choose if you want to visit that website or not.
You can also tweak this private search engine depending on what you like, such as layout density of the results, auto-suggestion, low-end graphics, open in a new tab, etc.
9. Gibiru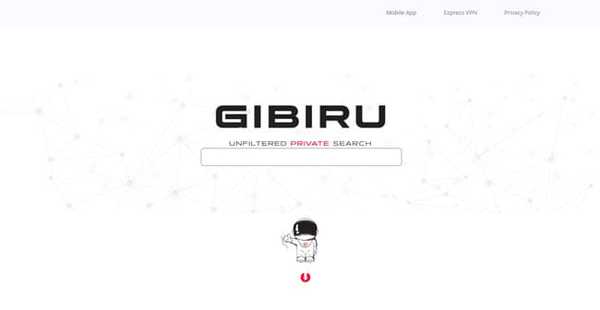 Gibiru is another great search engine for protecting your online privacy. It provides unfiltered search results.
Unlike other private search engines, it is generally faster than search engines as they do not put or modify any cookies in your browser.
Gibiru uses Google for providing search results but without any targeted tags or scripts.
It is a complete private search engine and can easily replace your present search engine.
It protects your online privacy as it neither tracks you or stores your online activity, and neither it logs your IP address. So, it has nothing to share or sell.
It has a dedicated app for Android as well as iOS smartphones. All in all, Gibiru is one of the best private search engines to use right now.
10. Ecosia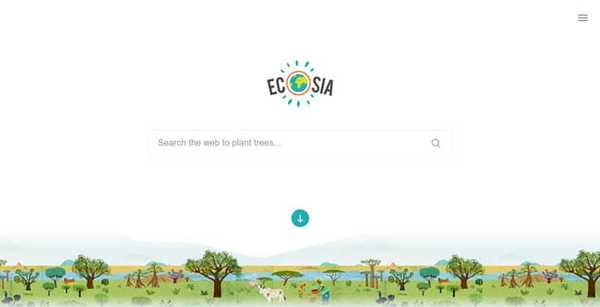 It is one of a kind search engine that plant trees when you search the web. It uses 80% of the profit for planting trees.
They publish their monthly financial reports so that everything is transparent.
It is a privacy-focused search engine that earns by displaying sponsored ads without targeting. As far as searches are concerned, it uses Bing.
Unlike other private search engines that don't track you store information about you, Ecoisa does store your data for seven days.
After seven days, all your information will be deleted. Even if they save your searches, they don't sell to advertisers or anyone for that matter.
The searches that you do on Ecosia are fully encrypted. You can turn off tracking by turning on "Do not track" option in the setting page.
So, it may not be an option for you if you are not OK with their stored information even if they are not permanent.
But surely give it a try, if you want to contribute to a great cause.
FAQs
What is the most secure search engine?
DuckDuckGo is considered to be the most secure search engine when it comes to most secure search engines. DuckDuckGo is the default search engine in the Tor browser and one of the most trusted private search engine.
Which search engines do not track you?
Private search engine doesn't track you. DuckDuckGo, StartPage are some of the best private search engines that don't track you unlike what almost every popular search engine like Google, Bing does.
Can private searches be tracked?
If you are using incognito mode on your browser and using non-private search engines like Google, Bing, Yahoo or others that your each and every search is tracked by these search engines. As far as private search engines like DuckDuckGo, StartPage they don't track your searches.
Which search engine is best for privacy?
Best Search Engines for privacy are as follows: 1. DuckDuckGo 2. StartPage 3. Searx 4. Swisscows 5. Disconnect Search
Is DuckDuckGo really secure?
Yes, DuckDuckGo is a secure and reliable private search engine. Its credibility can be verified by the fact that it is also the default search engine in the Tor browser. Moreover, it also grades websites based on the privacy practice in their search results.
What is the safest search engine 2021?
The best private and safest search engines in 2021 are: 1. DuckDuckGo 2. StartPage 3. Searx 4. Swisscows 5. Disconnect Search
Final Words: Use Alternative Search Engines to Google For Privacy
For protecting your privacy, you can use any one of the mentioned search engines. Of course, the searching experience is far from personalized as you are used to when using Google.
But if you rate your privacy more, then switching to these private search engines will not be an issue to you.
Currently, DuckDuckGo, combined with the Brave browser, is my personal favorite. But you can choose any depending upon your preference.
I always recommend using a VPN like ExpressVPN when it comes to online privacy, as it protects even when you leave these search engines.
What do you think about private search engines? Which one is your favorite? Let me know in the comment section. And if you liked the article, consider following us on Twitter to get the latest tech news and updates.